Manama Dec. 8th, 2004: Graham Hill, Gilles Villeneuve, Alan Jones, Keke Rosberg and Nelson Piquet - these are among the great names of motor racing with seven Formula One World Championships between them. But they share more in common than Formula One success, in each case their son has followed them into international motorsport and two of these sons of famous fathers will be in action at the Bahrain F3 SuperPrix.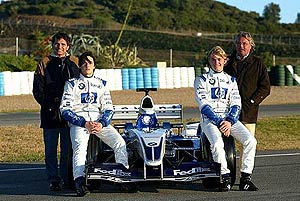 Nelson Piquet was one of the leading drivers of the 1980's, scoring three FIA Formula One World Championships in 1981, 1983 and 1987. The name Piquet is now back on the racetracks of the world with Piquet senior's son, Nelson Piquet Junior, one of the leading contenders for the Bahrain F3 SuperPrix this Friday. Piquet Junior has enjoyed an enormously successful season, becoming British Formula Three Champion and thereby following in his father's footsteps who took the very same title back in 1978. The very fact that father and son have won the same Formula Three title 16 years apart demonstrates the on-going importance of Formula Three as an essential training ground for the Formula One stars of the future. Indeed such was Piquet Senior's commitment to his son's success in Formula Three he set up a brand new team, Piquet Sport, built around Nelson Junior.


Nico Rosberg is the second son of a famous father in action at the Bahrain International Circuit. Keke Rosberg, affectionately known as the "Flying Finn" and the 1982 FIA Formula One World Champion, is as equally involved in promoting his son's development in Formula Three as Piquet. At Opel Team Rosberg, Keke has the management duties with the driving in the hands of Nico. Like Piquet Junior, Rosberg Junior will be a major contender for victory in Bahrain following a season which culminated in a 4th place finish in the Formula Three EuroSeries, widely regarded as the toughest of the 11 national and regional Championships. Nico has not only followed his father into Formula Three but also into a BMW WilliamsF1 car when the Rosberg name returned to Formula One at a test in Barcelona earlier this year.
Both Rosberg and Piquet Junior will know well from their fathers how important success in Friday's race in Bahrain will be if they are to ultimately reach their goal of Formula One. Formula Three was the primary breeding ground for Formula One champions over 20 years ago when their fathers were building their own careers and remains as important as ever now. When the lights go out at the start of the Bahrain F3 SuperPrix and 31 of the best young drivers in the world head for the first corner, Nico and Nelson Junior will be keen to prove they can be every bit as successful in Formula Three as their fathers.