Manama Dec.8th, 2004: The world's leading Formula 3 drivers ventured out for their first look at the Bahrain International Circuit today, and as luck would have it their day was one of the few wet ones in the Gulf. Japanese Formula 3 championship front-runner Richard Antinucci was fastest man for the Tom's Team.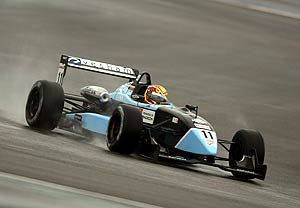 The American driver set his time in the second of three free test sessions, all of which were wet to some degree. Times dropped throughout the first two sessions as drivers learnt their way round the track on wet tyres and the rain eased, so that all the day's leading times came late in the second test.
The final session was a quiet one, as tyre supplierYokohama decided to save its wet tyres in case of further rain this weekend. Drivers were free to run dry tyres, but most saw it as a pointless exercise and just eleven of the thirty-one did any laps in the session.




Antinucci's time was less than one tenth of a second quicker than British series racewinner Lucas di Grassi, driving one of Hitech Racing's Dallara-Renaults. The pair were two tenths clear of Japanese champion Ronnie Quintarelli. Next fastest was Franck Perera of the Prema Powerteam.
Antinucci said: "We're looking solid. The Tom's team always goes well in international races and I've got faith! I like learning new circuits and we have a good package. It was difficult because the rain kept coming and going, but we were quick in all conditions.
"It's a good track. I found there is a lot of grip and I could just push harder and harder and keep getting quicker. But it is going to be quite different in the dry. Some corners will be easily flat out where we had to lift off the throttle today."
Qualifying for Sunday's Superprix takes place tomorrow. The supporting MeCAR series also tested and qualified today. Salman bin Rashid earned pole position for the first of three races, which takes place tomorrow afternoon. The Mini category will also join the qualifying and racing activity tomorrow and Friday.