PERERA WINS FORMULA 3 QUALIFYING BATTLE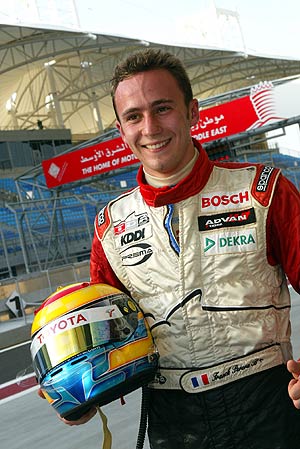 Manama Dec.9th, 2004: French driver Franck Perera will start tomorrow's qualifying race for the Bahrain Formula 3 Superprix from pole position. With a last-minute lap at the end a high-pressure qualifying session, the Prema Powerteam man came out just ahead of Jamie Green (ASM) and Fabio Carbone (Three Bond Racing).
Qualifying was particularly difficult because rain interfered with the meeting again this morning. Not only did that mean that the 30 minutes of the afternoon session were the only opportunity to set fast times for the grid, but that everyone saw a dry track for the first time in a do-or-die session.
The session was cut short at either end by stoppages, and drivers took the first half of the remaining minutes to evaluate a dry setup before changing onto new tyres. That left just a ten-minute window for the cream to rise to the top.
"It's my first pole in Formula 3," said Perera. "So I am pretty happy. The first half of the session was just about getting the setup right because we had never seen the track in the dry before. We made some changes, and when I went out I found a clear track and I was able to get it all together and do a good lap."
"I am very happy to be on the front row," added Green. "It was all about adapting very quickly this afternoon and it is a help to have such a good package from ASM."
Anybody near the front will be happy with that. There is a long way to go in the meeting, as the result of tomorrow's qualification radce will determine the grid for the afternoon's Superprix itself. A reliable run in the morning is essential as a retirement would mean starting the main race from the back.

All will be revealed tomorrow, and there is also a good supporting cast to the main act. The MeCAR Series and Mini Cooper Challenge will fill the support programme once again. Each single-make series had a race today with Salman Bin Rashid Al Khalifa taking the MeCAR event for the BIC/Visit Bahrain team. Fehad Al Musalam triumphed in the Mini Cooper race.