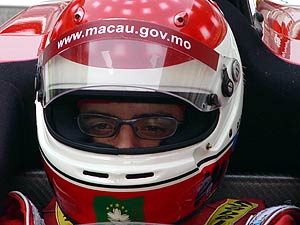 After the outstanding FIA F3 Intercontinental Cup at the 51st Macau Grand Prix, 17-year-old Macanese driver Rodolfo Avila will head to the desert of Bahrain next week, to tackle some of the world's best Formula 3 competitors from Europe, Japan, Australia, Asia and South America in what will be the final F3 showdown for 2004.

For Rodolfo Avila, racing at the Bahrain International Circuit will be the first opportunity to drive the Dallara - Mügen Honda in a conventional circuit.

"It's a new circuit and a new challenge for me. I have been studying the circuit and it is a mix between fast and slow corners. Very interesting! I'm not worried about this being a different track because a driver has to know how to adapt to a new challenge. It will be excellent do a race without much to care about retaining walls as found in Macau...", add Macau's sponsored driver.


Once again, Avila will team up with prestigious Carlin Motorsport in the inaugural Bahrain F3 Super Grand Prix. The Asia Formula Renault 2004 runner up wants to continue his development in the category.

"I'll do my best. My opponents have loads of experience driving these cars and it will be extremely difficult to beat them. I will do my best to learn as much as I could during the weekend and I really hope to finish my first ever race in a Formula 3 at Bahrain", says the youngest driver in the field. The 2004 Bahrain F3 Super Prix will be run on December 9th and 10th.