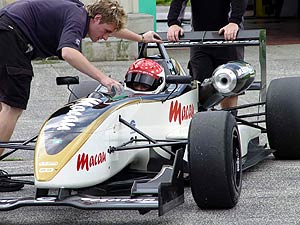 Fresh from a spectacular Chinese Grand Prix support race, Macau-based Asian Formula Renault 2000 Champion Rodolfo Avila has packed his gear and is set to return to the United Kingdom for yet another series of Formula 3 tests conducted by Carlin Motorsport.

Late last month, the 17-year old completed multiple sessions at Pembrey Circuit in a Dallara Mügen-Honda creating highly positive results. This time, however, Avila is scheduled to do a days' test at Pembrey before moving on to Croft.
Avila is expected to be at Pembrey on October 11 followed by two 2-day sessions at Croft beginning October 13.






"I'm extremely happy to drive the F3 again. Having tested at Pembrey, my familiarity with the car and the circuit will be good to get me up to speed before I move to Croft. Without any personal pressure, my focus remains on maximizing the potential of the car and I expect to have to use all I've got before I can consider my tests successful. Compared to an FRenault 2000, an F3 is more challenging to drive and I'm all keyed-up to get behind the wheel again", narrated Avila.
Immediately after his test, Avila returns to Zhuhai, China, for the penultimate round of the Asian Formula Renault 2000 Challenge. Rodolfo Avila currently trails the series leader by just one point.