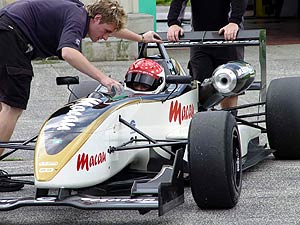 Speculation has been rife of a Formula 3 debut and Asian Formula Renault Champion Rodolfo Avila has now confirmed his participation in the forthcoming FIA Formula 3 Intercontinental Cup at the 51st Macau Grand Prix. UK-based British F3 Championship-winning team Carlin Motorsport has been tagged, with which the young Macanese shall carry the cudgels for Macau in a Dallara Mugen-Honda.

"I consider this a golden opportunity I aim to use well. The inherent pressure of home ground competition is something I may have to contend with but the overwhelming support of my fellow-Macanese will surely keep me focused and inspired", says the 17-year-old about competing at an event many consider as the testing ground for future Formula 1 stars.





Previous testing at Pembrey throughout summer consistently produced positive results for the young driver and another set of tests at Croft, already under way, are all aimed to keep Avila up to par with the world's best. Carlin Motorsport is known to have played a critical role in the careers of winning drivers such as Takuma Sato, Kimi Raikonnen, Jenson Button, and fellow Macanese Andre Couto, among others.

"My motorsport management team and I have plotted my career and if all goes well in Macau, we may be looking into a full F3 series next season. As in all my previous races, my sights will be on getting a respectable finish position; of course, anything better than that would be magnificent", added Avila.

Direct from Croft, Avila returns to China in time for the penultimate round of the Asian Formula Renault Challenge at Zhuhai, where he currently trails the series leader by a single point. As the Asia Formula Renault 2000 Championship unfolds by the third weekend of October, all eyes will then be on the 51st Macau Grand Prix, which is slated to be held from November 18 to 21.