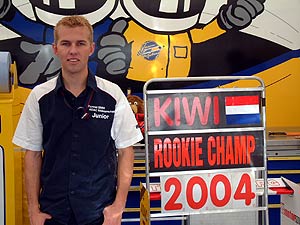 Hockenheim – Two exhilarating races for the title of Formula BMW ADAC Rookie of the Year 2004 ended with the result Chris van der Drifthad had hoped for this weekend. By finishing on the podium twice, in third and second place, the 'Dutch' New-Zealander was crowned best of the twelve newcomers in this class for young talents on Sunday morning.

As all contenders make use of the same chassis, engine, tyres and fuel, the Formula BMW ADAC Series is a solid championship for young upcoming drivers. Because all races are being held during prestigious Formula 1 or DTM events, a large amount of (media)attention is guaranteed. Therefore this series offers an ideal opportunity for companies or brands to present themselves on a international platform. For any questions o r information regarding PUBLIC RELATIONS and/or SPONSORING opportunities, please contact Tony van der Drift (+31 6 463 472 84 / tony@vandymotorsport.com)


During the qualifying sessions at the 4.574 kilometer long track near Ludwigshafen, Van der Drift showed his vechtlust by ending both sessions far in front of his rival Sebastien Buemi. Despite the great starts in both races of 'Kiwi', his Swiss rival remained competitive until the end by overtaking a large part of the field. In both heats Van der Drift needed to work hard in a direct duel with Buemi in order to secure the desired title. After eleven laps the season ender on Sunday morning resulted in a second place for the twelve time(!) go-kart champion. On top of that he was also crowned 'Rookie of theYear 2004'. With eight podium finishes in twenty races in his first season in a car it was a rightly reward for his proven talent!
Chris van der Drift: "It is an unbel ievable feeling! Because the tiny pointsdifference (only two points in Van der Drift's advantage) I was not able to sleep well last night. I was happy we had to race early this morning! For this race I only had one goal in mind: to beat Buemi and finish. In this I succeeded!
With the Rookie 2004 title in the bag, I hope to make a step forward in my career next year. But first I am going to celebrate this success with my team and family by opening a bottle of champagne!"
RESULT RACE 01:
01. Sebastian Vettel (GER), 19:42.535
02. Sebastien Buemi (SUI), + 07.086s
03. CHRIS V/D DRIFT (NL/NZL), + 08.703s
RESULT RACE 02:
01. Sebastian Vettel (GER), 19:35.667
02. CHRIS V/D DRIFT (NL/NZL), + 01.064s
03. Sebastien Buemi, (SUI), + 01.924s
FINAL STANDINGS FORMULA BMW ADAC ROOKIE CUP 2004:
01. CHRIS VAN DER DRIFT (NL/NZL), TEAM ROSBERG, 311 POINTS
02. Sebastien Buemi (SUI), Lars Kaufmann Motorsport, 304 points
03. Fabio Onidi (ITA), ADAC Berlin-Brandenburg e.V., 170 poi nts