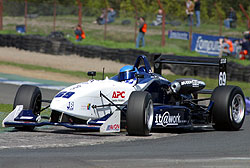 Ryan Lewis scored his 14th and 15th pole positions of the season at Brands Hatch today despite a burst of rain and suffering understeer throughout the first session. Session two saw a red flag incident but the 19 year-old from Royston was unable to improve his time in the remaining four minutes despite making changes to the car, which converted the understeer to oversteer.

He still finished over three-hundredths of a second faster than his closest rivals in both sessions though to line up ahead of Stephen Jelley for race one and Ronayne O'Mahony for race two.


With the pressure off after securing the championship at Thruxton last month, Ryan's goal for tomorrow's two 28-lap races is to challenge for high overall positions and is aiming to beat his best overall finish - 10th at Castle Combe. As Brands Hatch is a `low-downforce' circuit and with rain forecast, he is confident of being able to convert his two - 15th overall starts to top ten finishes.

"I had quite bad understeer in the first session so we made a few changes and I went out on old tyres for the start of the second session and tried to find a good balance, as we had had a pretty good balance in the first. Then we went out on new tyres on and the car was completely unbalanced, we had so much understeer in the fast corners and we were losing out so much in the first sector and just couldn't squeeze anymore time out of it.

"Then I came in and made a few changes when the red flag came out and that brought a load of oversteer in when the tyres were getting a bit older so it's frustrating to say the least, a bit like banging your head against a brick wall!

"However the forecast for tomorrow is rain all day, which will throw everything we've done today out of the window but it will equalise the difference between the scholarship and the championship class cars."

Qualifying for Round 23
1.RYAN LEWIS BES Dallara F301 Mugen-Honda 42.924
2.Stephen Jelley Dallara F301 Opel Spiess 42.961
3.Vasilije Calasan Dallara F301 Mugen-Honda 43.730
4.Ronayne O'Mahony Dallara F301 Opel Spiess 45.256
5.Lars Sexton Dallara F301 Mugen-Honda 45.418

Qualifying for Round 24
1. RYAN LEWIS BES Dallara F301 Mugen-Honda 43.200
2. Ronayne O'Mahony Dallara F301 Opel Spiess 43.502
3. Stephen Jelley Dallara F301 Opel Spiess 43.554
4. Lars Sexton Dallara F301 Mugen-Honda 43.926
5. Vasilije Calasan Dallara F301 Mugen-Honda 44.078

Avon Tyres British Formula 3 Scholarship Points after 22 rounds
1. RYAN LEWIS 381 (Champion)
2. Stephen Jelley 236
3. Vasilije Calasan 168
4. Barton Mawer 134
5. Ronayne O'Mahony 109
6. Adam Khan 78
7. Ajit Kumar 70
8. James Winslow 27
9. Lars Sexton 23