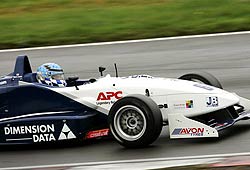 Avon Tyres British Formula 3 Scholarship Champion Ryan Lewis ended the 2004 season with another lights to flag victory, his 17th of the year at Brands Hatch this afternoon (Sunday). The 20 year-old from Royston, started from pole position and took an immediate lead which he maintained to cross the line almost ten seconds ahead of Championship runner-up Stephen Jelley.

The 28-lap final race of the year, again held on a damp track, produced excitement all the way through for several drivers, but proved uneventful for the youngster, except for a mid-race battle with Ivor McCullough in a 2004-spec car. As the battle for Championship Class title honours finally went the way of Nelson Piquet Jr, Ryan who had already wrapped up the Scholarship title with five rounds remaining, cruised to a comfortable class win and 14th overall and set his 17th fastest lap.

"It's great to end the season with another victory," said Ryan. "I don't think it's the best weekend we've had. I came into this meeting hoping to get inside the top ten overall and in amongst the championship cars but I don't think I was on top of my game this weekend for whatever reason.

"I made a good start and managed to get in amongst some of the championship cars but I couldn't really get on it in the early laps. I was losing out a lot in the first sector and got stuck behind McCullough and probably should have made the pass early on because then he pulled out a bit of a gap. I wasn't able to drive the car to the limit of the grip and it was only in the later laps that I really got to grips with it.

"As for my first season in F3, well it's had high points and low points but generally it's been great and I think I've learnt a lot. I did what I set out to do in winning the championship, so I'm happy and now it's onwards and upwards and we have to start thinking about next year. I can't believe the season is over, when I got out of the car at the end of the race it suddenly hit me, that I won't be racing again this season - I'm gutted!. Testing is all very well and good but I shall miss the competition, so I might just have to get the T-Car out again for another outing!"

Results of Round 24
1. RYAN LEWIS BES Dallara F301 Mugen-Honda 22:35.015
2. Stephen Jelley Dallara F301 Opel Spiess 22:44.890
3. Ronayne O'Mahony Dallara F301 Opel Spiess 22:06.629
4. Vasilije Calasan Dallara F301 Mugen-Honda 22:27.988
5. Lars Sexton Dallara F301 Mugen-Honda 22:46.390

Fastest Lap: RYAN LEWIS 47.325 93.27mph 150.11kph

Avon Tyres British Formula 3 Scholarship Points after 24 rounds
1. RYAN LEWIS 423 (Champion)
2. Stephen Jelley 256
3. Vasilije Calasan 212
4. Barton Mawer 134
5. Ronayne O'Mahony 121
6. Adam Khan 78
7. Ajit Kumar 70
8. Lars Sexton 43
9. James Winslow