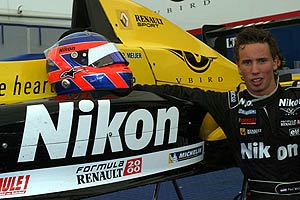 Reigning Formula Renault 2000 champion Paul Meijer will drive a PREMA POWERTEAM Formula 3 car next Wednesday during an official test at the Motopark Oschersleben racetrack. His constant performance in the Benelux Championship with five wins in five races, combined with his sixth position in the European Formula Renault 2000 Championship, has convinced NIKON and some personal sponsors to help him entering this race series, which is regarded as the portal to Formula 1!
Paul Meijer, already in Germany, has made the final preparations together with the PREMA Powerteam for his test on Wednesday. Last week a seat was made for the Bilthoven-based driver and this week Meijer will get acquainted with the 3,667 kilometre long circuit.


The PREMA POWERTEAM was founded in 1984 and has been at the top of motorsports for over twenty years. The team was successful in Formula 3000, Italian and German Formula 3 and decided to put all its efforts in the prestigious Formule 3 Euro Series Championship since 2003, a year in which they won the title with Ryan Briscoe. Nowadays, Briscoe tests for the Toyota Formula 1 team. This year the Italian team took the 'rookie' title with Franck Perera. PREMA also has close relations with the Formula 1 team and all young drivers automatically are taken up in the Toyota Drivers Development program.
Meijer, who will compete in the Finale races at Zandvoort this weekend, of course is very happy with the given opportunity. The 19-year old driver can hardly wait to make his first metres in the car: "After a fantastic season in the European Formula Renault 2000 Championship and my great wins in the Benelux championship, this really is a wonderful next step in mine career. Although this opportunity came a little unexpected, I am mentally and physically ready. I would like to thank my sponsor NIKON for this nice opportunity I have been given!"