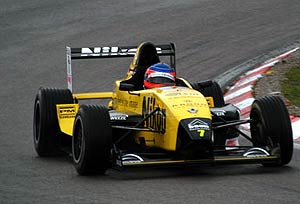 17th October 2004 – In his seventh Benelux Formula Renault appearance this season, Paul Meijer finished second and first this weekend at Zandvoort during the Finale Races. Meijer made his comeback on the Dutch racetracks halfway the season, and scored six wins and a second place in seven races since! During the first race the 19-year old driver was challenged only by Junior Strous. The young Nikon Motorsport driver consolidated second place at the 4,3075 km long circuit in the dunes to secure another podium finish.
During the final heat of the season Meijer started the race from third. He had an excellent start and tried to overtake pole man Van Dam and Junior Strous at the same time. The Bilthoven-based driver got stuck between both rivals and Strous had to retire at the spot. At the restart Meijer took the lead and kept it till the finish. The 37 points scored for the Benelux championship resulted in a fourth position in the final standings with 145 points.
Meijer: "This weekend I showed that I am the best Formula Renault driver of the Netherlands. I only joined this championship halfway thru the season and won six times and finished second once in seven races! If I had participated in the Benelux championship right from the start I would probably have won the title again. I simply could not do any better than fourth in the championship. With my sixth position in the European Championship and today's dubble podium finish during the season-ender I again confirmed that I performed very well this season. I hope my Formula 3 test of last week will help me to move up a step in international autosport next year!"
RESULT BENELUX FORMULA RENAULT 2000 RACE 01 FINALE RACES ZANDVOORT:
1. Junior Strous 12 laps 19:49.879
2. PAUL MEIJER + 5.291
3. Carlo van Dam + 5.590RESULT
BENELUX FORMULA RENAULT 2000 RACE 02 FINALE RACES ZANDVOORT:
1. PAUL MEIJER 11 laps 20:33.414
2. Carlo van Dam + 6.523
3. James Jakes + 7.917
FINAL STANDINGS 2004 Benelux Formula Renault 2000 Championship:
01. Junior Strous, Mr Glow, 220 points
02. Xavier Maassen, AR Motorsport, 198 points
03. Yelmer Buurman, AR Motorsport, 174 points
04. PAUL MEIJER, NIKON MOTORSPORT, 145 points
05. Carlo van Dam, Van Amersfoort Racing, 142 points
06. Ricardo van der Ende, Equipe Verschuur, 104 points