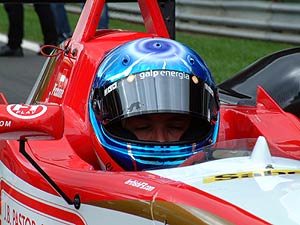 Monegasque driver Clivio Piccione put in an impressive performance at Snetterton testing for Arden International as part of their driver evaluation programme for the new GP2 series. Running in Arden's 2004 F3000 car, Piccione was the quickest driver on the day with a fastest lap of 58.8 seconds.
The day started slowly for the former Carlin Motorsport star, as wet track conditions prevented the cars from running. The track conditions eventually dried up allowing Arden to run an intensive four hour programme with Piccione in the afternoon.
It was Clivio Picciones first time in an F3000 car and his consistent speed and quick learning impressed all involved. By the end of the day, Clivio was only 4 tenths of a second short of the fastest lap ever recorded at Snetterton by Arden International.

" I really enjoyed my test with Arden. Driving a Formula 3000 car for the first time was a big step-up from Formula 3, but I feel I put in a strong performance. The first impression of the car was that it was a lot bigger and heavier than previous cars that I have driven. However, I quickly got used to it and managed to put in a number of sub 60 second laps towards the end of the session. I was very impressed with the professional way that Arden ran the test and am looking forward to further opportunities to work with them."
Christian Horner, Team Owner of Arden International commented:
" Clivio has done a great job today. The weather conditions this morning limited his track time, but he did not let this distract him and immediately put in a strong performance when he eventually went out on the track. I am looking forward to watching Clivio test again with the team in Europe in November."
Clivio Piccione drove for Carlin Motorsport in the highly competitive 2004 British F3 Championship finishing in a strong fourth position overall. The former Karting Vice-World Champion is focusing on landing a drive in GP2 next year.