Last weekend the EV Racing team raced in the 11th and 12th races of the Spanish Formula 3 Championship with his Austrian driver Andy Soucek.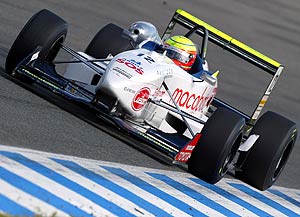 In the qualifying for the first race, Andy qualified third for the grid, 34 hundreds of a second away of the second place of Steven Kane. This result didn't make the EV Racing team very happy after dominating the free testing on Friday. For the second qualifying the aim was again pole position, but a mistake made Soucek spin off at the beginning of the session leaving him in 11th position for the Start of the second race.
The first race had very little story to tell, with Soucek overtaking Kane spectacularly at the first corner, opening a gap and conquering a lonely second place, because Garcia himself opened a gap to win the race. The second race was a very short one for the EV Racing team, as the Red Bull driver, Matias Milla, missed his braking point of the second corner leaving Soucek off the race.



This result leaves Andy Soucek in a comfortable fourth place in the Championship, were the aim for the two races left is to conquer the third place from Steven Kane, even do the chances are very weak.
For the next race in Barcelona the 14th of November, EV racing has great novelties to announce, because will have two new drivers in the line up that will be announced very soon. For more info visit www.evracing.com