O'Hara wins first race of the day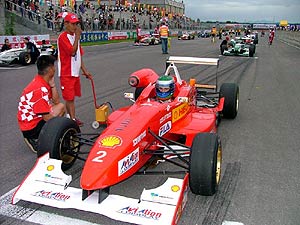 John O'Hara romped away to a ten second win from Christian Jones in the first Addict Mobile Superprix of the day at the Batangas Race Circuit in the Philippines. Oliver Turvey took Promotions Class honours from Tyson Sy.

O'Hara took a lights to flag win from Championship rival Christian Jones who was six seconds ahead of third placed Ananda Mikola. Oliver Turvey finished an impressive fourth overall, first in Promotions Class, after an at times very physical battle with Tyson Sy. Main interest of the race was the progress of John Pettit who fought his way up to fifth place, relegating Sy to sixth a couple of laps from the finish.

A flu ridden Mark Goddard finished an exhausted seventh from Richard Joson and Moreno Soeprapto who made the third step on the Promotions Class podium. Miura and Marave rounded out the top ten with the Pastor brothers completing the finishers, Enzo beating Don. Hermoso and Pena both retired with mechanical problems.

Sy goes into the final race of the day with a points lead in the Promotions Class Series whilst O'Hara and Jones are just five points apart and fireworks are expected.