O'Hara and Jones crash out at dramatic start for 2004 final race. Jones AF3 Champion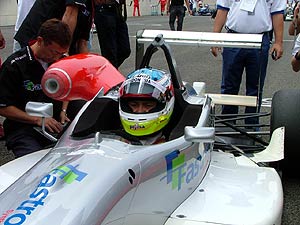 Fireworks were expected and we certainly got them. Jones made a good start, O'Hara an average start and he moved over, Schumacher style, on a fast closing Jones within meters of the start. Heavy contact was made and both cars slammed into the wall. Mikola went on to win the race.

Mikola led all the way but had to soak up a lot of pressure from John Pettit. Tyson Sy had been right up there but fell back as the race progressed content in the knowledge he was wrapping up the Promotions Class Series. Pettit made a real charge with four laps to go but pushed just a little too hard and speared off into the barrier at Turn 4. This left Sy in second with Marave making it all the way to the podium from tenth on the grid.




Dado Pena took a fine fifth overall, second in Promotions Class, just ahead of Oliver Turvey whose gears were 'jumping out'. Enzo Pastor just beat Muira for seventh place whilst Soeprapto assaulted Joson on the final lap, the latter coming home ahead of his assailant. Don Pastor completed the finishers. Hermoso retired after 7 laps whilst Mark Goddard failed to complete the warm up lap with a broken second gear.

The live TV was able to provide the Stewards with plenty of playbacks of the start line incident and O'Hara was given a hefty US$10,000 fine for his part in the accident.

Jones therefore wins the 2004 Asian Formula Three Series by five points, although its all provisional subject to an appeal which O'Hara's team have lodged with the FIA Court of Appeal regarding their drivers one minute penalty for the start line incident in Round six at Beijing.

Sy takes the Promotion Class and the AF3 Promotions Driver of the Year Award. John O'Hara will receive the AF3 Driver of the Year Award.