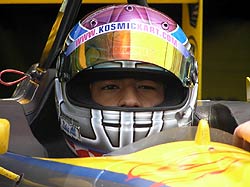 Team BRM Signed a world Karting competitor in an effort to find success in the Asian Formula 3 championship, and proved that given the right circumstances the team has the ability to succeed on the Asian scene.
Continuing team BRM's trend of selecting youngsters to drive their cars, 16 year old Indonesian Zahir Ali was signed to drive the team's Dallara F301 Speiss Opel for the sixth round of the Asian Formula 3 championship at the Sentul Circuit in Indonesia.
It was Ali's first look at both the Sentul Circuit and a Formula 3 racecar, and despite his inexperience the young driver performed well over the course of the weekend showing the kind of potential needed to be a star of the future.
Niggling fuel pressure problems hindered the team's build up to the weekend, as the team found the car lost close to 2,000 RPM in each gear, slowing it dramatically. With the problem fixed, Ali's qualifying session was interrupted with a spin, and times mysteriously two seconds slower than what the team achieved during the Thursday testing sessions.

The lack of pace disappeared overnight, as the Ali set impressive times in the morning warm-up that gave the team confidence of a Top 5 result going into the first race.
Race one saw the 16 year old Indonesian cut his way through the field early on, running a strong sixth before spinning on lap 7. Ali recovered into a credible 9th place at the end of the race.
Race two was a better show for Ali, despite struggling off the line and dropping to second last at the end of the first lap. After that, Zahir made up 6 positions in the remaining 11 laps to finish a strong 9th place.
Team BRM engineer Craig Rundle was pleased with the weekend.
"For a weekend of Firsts for both Zahir & BRM, we are extremely happy with the performance of Zahir and the car," Said Rundle. "Zahir showed that with more seat time and experience in cars he will have a long career in Motorsport." He said.
The car's performance also impressed the team.
"We were also extremely happy with the performance of the Spiess Opel engine, against current spec TOM's the Spiess proved its equal in straight line speed and showed that engines other than Toyota can compete in Asia."
Team BRM's next shot at success in the Asian Formula 3 series will be held at the Batangas Circuit in the Philippines. The team is without a driver, but is confident of filling the seat.
Team BRM Briefs..
As a testament to the team's desire for success in the Asian Series, the team has purchased a 40-foot shipping container to ease the team's logistics, ease transportation issues and also to add to the team's professionalism.