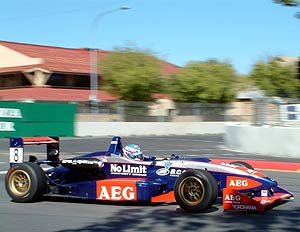 26 year old Gold Coast resident Marcos Marshall proved there is no place like home as he took a second consecutive race win in the eighth and final Australian Formula 3 round for 2004, on the concrete lined streets of Surfers Paradise today.
Meanwhile, 19 year old West Australian born Karl Reindler inched closer again to the 2004 Australian Formula 3 championship, finishing a solid third outright and extending his series points lead to five markers over year long sparring partner Chris Gilmour.
For Reindler, it was a day of consolidation, having re gained the championship lead in Thursday's 12 lap race. The man who dominated the Eastern Creek and Wakefield Park rounds of the championship on outright pace, today showed a high level of maturity and thoughtful driving to assure himself of an extended points margin after the race.
"I had to push a bit harder in the early stages of today's race," Said Reindler at the conclusion of the 10 lap affair. "But I was still driving well within myself and making sure that I did what I needed to do for the championship."
Marcus Marshall, driving after a late call up to the second team BRM Dallara F301 just days before the Surfers event, lead from the outset and took a race win by under a second - although never really under any immediate threat during the race.
"I did what we needed to do today," explained Marcus after the race. "I didn't need to push hard for a majority of the race so we could save our tyres for Sunday's final race." He said.
Yokohama Trophy Class sensation Nic Jordan today was unfortunately forced to endure his first ever Formula 3 DNF, after his Coopers Pale Ale Racing Dallara continued to suffer from the effects of being waterlogged in the downpour before F3 Qualifying on Thursday.
After making a strong start from his rear of field grid position, the car began to slow some five laps into the race, before the 16-year-old Kiwi parked it in pit lane sure to problems with a faulty spark plug, which had been affected by the water in the engine. The plug was replaced meaning Jordan has the full opportunity to excel in the final race of the session Sunday Morning.
"Unfortunately, Nic continued to suffer from our water drenching yesterday," said Team BRM owner Bronte Rundle after the race. "At the end of the day, after the incredible season Nic has had, this meeting was always going to be a learning experience to get laps in the car around this demanding circuit" he said.
Rundle was positive about the other cars' performance, though. "Marcus proved once again that his British F3 experience is showing though here this weekend. He was able to control the race from the outset, and have another great result in front of all his supporters." Said Rundle.
"Karl again drove an extremely professional race, and achieved his aim of making sure he finished in front of his championship opposition." He said.
Reindler will be going all out to defend his slender five-point margin as the series concludes in an 8-lap sprint first thing Sunday Morning, in a race that will definitely decide the 2004 Australian Formula 3 championship. Reindler need only finish one position in front of his rival to snare the title.