Performance Racing,Brands Hatch, Round 23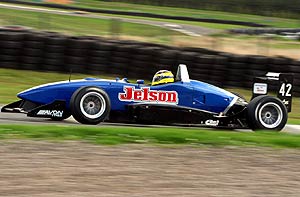 Having expected to be at an advantage in qualifying for Round 24, Performance Racing's Ronayne O'Mahony was somewhat disappointed to find his best laid plans going awry. He'd still got a new set of tyres available, unlike his team-mate Stephen Jelley and arch-rival Ryan Lewis (T-Sport), so in theory he had a massive advantage over the two of them: "I didn't get a run on my nice shiny new tyres. I ended up second, and I was a bit disappointed because I went to go out on my new set of tyres, and as I left the pits I discovered I didn't have second gear, so I just went out and then had to come back into the pits - game over! It was a pity because I think I could have had my first pole." He remained philosophical however, looking on the bright side as much as possible: "If it's dry tomorrow I've at least got a new set of tyres for the second race."
Stephen, on the other hand, didn't have new tyres and thus didn't have especially high hopes for this session: "We used both sets of new tyres in the first session, so I didn't have any for second qualifying. Anyway I went out and tried to do my best, but I was about half a second off and there's about half a second in new tyres round here, so the gamble didn't pay off. But never mind." He was third in class, just behind Ronayne, while Lewis had once again snatched pole. It's been far too predictable this year, and it would have been good to have overturned the normal order of things.


For the team, the race was pretty stressful too, as Stephen and Ronayne were battling each other for the greater part of it. And neither of them were having what night be termed an easy race. "I got a pretty shocking start really. I was good off the line but then there was a Hitech car that had stalled or something, and I was very close to running straight into the back of him. I had to slam on the anchors and basically stop, and then drive around him. It didn't take me long to catch back up with the pack because everything slows down after the start, because everyone is boxed in and you can't really go quickly. So I caught up really quickly. I got past the two other Scholarship Class cars (Vasilije Calasan in the Promatecme F3 car and Planet Racing's Lars Sexton), at the first corner. I just sort of lunged at them up the inside and hoped for the best!"
Having sorted that out, Stephen managed to catch up with Ronayne, where he would stay for some considerable time. "It's an absolute pig to overtake round here, and if you're behind someone who is not that dissimilar in pace and doesn't want to let you past, you can't really do much about it. I just sat on Ronayne's gearbox really. But I had a bit of a problem with my visor, which kept misting up - it's an old one but it's anti-fog and everything but still I couldn't sodding see, so I opened it up and looked through the gap. Anyway, I caught up with Ronayne and had a few looks but it wasn't really happening..." Stephen's looks included a side-by-side charge up to Clearways before he had to back off again. Ronayne, afterwards, seemed not to have noticed that there was a blue car alongside him, and anyway Stephen was clearly not coming through that time. The trouble was, running that close behind another car is not good for the handling of your own car: "When you're behind another car you're running in dirty air - I was trying to deal with that and it wasn't really working too well. Luckily he made a bit of an error coming into Graham Hill Bend, and I was through."
Ronayne, of course, has his own side of the story: "I made a good start, but then from the off I was really struggling with the car, and it just got progressively worse. Well no, the first four or five laps were good, but Ryan was able to get away. I sort of held him at that and I was about a tenth of a second a lap off his time. But then I got to the point where the oversteer started to work its way back into the car, and unfortunately it got worse and worse. Paddock was just a nightmare to try and go through, and Druids I was just struggling, and at Graham Hill I was having massive oversteer moments, so I was having to be a bit conservative. And then Stephen got by, so I just had to drive to the end. It was damage limitation really, the second race. It was a bit of a kick in the teeth, because I'm normally quite good in the rain, but today I wasn't."

By the time Stephen was through, it was too late to catch Lewis, but a well-earned second place was his, with Ronayne occupying the final step of the podium.

Performance Racing,Brands Hatch, Round 24
Performance Racing arrived at the final meeting of the 2004 British Formula Three Championship hoping to end the season on a high note. With the Scholarship Class championship chase already settled in favour of T-Sport's Ryan Lewis, Stephen Jelley and Ronayne O'Mahony both hoped to leave Brands Hatch with a victory or at least a pole position apiece. It wasn't to be, at least not for the penultimate round of the series.
Despite his best efforts, Stephen ended the session 2nd to Lewis, thwarted by the weather conditions, and by the fact that the session had to be stopped after two drivers, including Ronayne, managed to get stranded at Clearways. During the stoppage, a heavy shower of rain meant that at the restart the track was slippery, and therefore much slower. Afterwards, Stephen was clearly frustrated: "Nothing went wrong as such, but I'm a little bit annoyed to lose out to Lewis by such a narrow margin. We're hoping it'll rain this afternoon, because we used both sets of new tyres in this session, so we don't have any left now. Our thoughts were that the weather report was awful for this afternoon, so we wouldn't need them then. So now we're hoping it throws it down. If it doesn't we should still get a semi-decent performance from these, but not an absolute stonker of course." He was happy with the car's handling, just not happy about what had happened both in qualifying and in Friday's test session. "We've improved the car quite a lot from testing yesterday, and today, but we couldn't afford two sets of tyres yesterday, because we used too many at the beginning of the season, so we've run out. We only had one set, and I think yesterday if I'd put a new set of tyres on I'd have gone a lot quicker. Trouble was yesterday I just didn't string it all together. I just was a bit all over the place." Of course, in addition to all of that, Stephen needed to establish that the car was running properly after the rebuild it had to have after Spa. "The car is basically new - it's still the same tub but that's been completely stripped back down to carbon... checked out and repainted and everything else has been replaced."

If Stephen wasn't happy after qualifying, Ronayne was positively dismal, having managed one flying lap when his session came to an abrupt halt: "It was going quite well but then I just came into the chicane and just sort of hit a bump in the middle of it and the back just broke away because the tyres were a bit on the cold side... I overcorrected and it snapped and that was it. I was straight into the gravel trap - I damaged a front wing end plate and collected lots of stones. It wasn't too bad though my neck's a bit stiff." Unlike Stephen, Ronayne was not doing a rain dance, though he couldn't maintain a dismal front for too long: "Hopefully it'll be dry for second qualifying because I'll have a set of new tyres and I don't think Ryan and Stephen do. If it's dry, hopefully it'll be good, and if it's not dry… hopefully it'll be good."
The race turned out to be a source of enormous frustration all round too. Ronayne didn't finish, going off in the early stages and ending up in the barriers at Paddock Hill Bend. Afterwards, he was unhappy with himself, and honest about it. "Disastrous! It was a disastrous qualifying and a disastrous race. I missed a gear, went down and got it all locked up. I did that twice, and the second time I just went off. That was it really..."
Stephen, on the other hand, looked set to claim another victory, having managed to open a gap between himself and Lewis in the early stages. With less than a lap to go of the 28 lap race, suddenly Lewis had the lead and Stephen was in 2nd place: "Today was just SO annoying. I just couldn't believe it. It seemed a long race and I looked up expecting to see there were five or six laps left and there were seventeen left, so I just kept my head down and tried not to make any mistakes, but I made three in the race and the final one cost me dear. They were all on Graham Hill Bend, just because there was one dry sort of groove and if you didn't get it in there, you had to really wait till you were round the corner to get the power on. I just messed it up. That final lap, I though OK, there's a big gap, keep it how I'm going now, and I came in there just a little bit off line on the entrance and got it all crossed up onto that kerb. I was quite lucky not to spin, but it's so annoying. The most difficult part of a race like that is to just keep going..." He was annoyed with himself but knew he had to push it to the back of his mind and concentrate on the afternoon's final race.