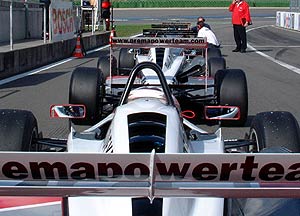 There will be a winter-break for the Formula 3 as well. Before this short period, the most important teams and drivers will be present in the brand-new circuit of Bahrain for the last international event of the year : the 1st Bahrain Super Prix. It will be the first time for Formula 3 vehicles on this circuit, projected by German engineer Hermann Tilke, where the Formula 1 Grand Prix of Bahrain takes place. Prema will cap this intense season participating in this significant international race with Frenchman Franck Perera, best rookie 2004 in the Formula 3 Euro Series Championship and fifth in the famous Macao Grand Prix and with Kohei Hirate. For Kohei this will be his third race in Formula 3,after his successful performance in the Formula Renault 2000- Italia Championship, where he was second , together with Prema.
This circuit is new for all the competitors. On Wednesday there will be three sessions of free tests which will allow technicians and drivers to analyse all the information necessary to improve the setting up. On Thursday the two practice sessions will determine the starting grid for race 1.


Race 1 will be taking place on Friday morning and it will be considered as a real qualifying session. Soon after, and taking into account the order of arrival in race 1, the 1st Bahrain Grand Prix will start off.
Together with Zandvort and Macao, this event allows the best drivers of the various national championship to compete in a real "one shoot race". The final result of these races may, literarily, change a driver's career.
Certainly, it will be an important experience for everybody, for the present season and for the future.