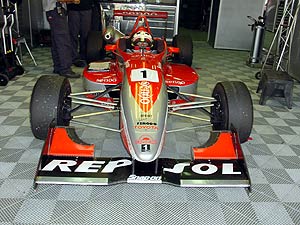 The second to last round of the Spanish Formula 3 Championship is taking place at the Jerez circuit, Racing Engineering's home track, on the 9th and 10th of October. Borja Garcia, the leader of the championship, is aiming to continue his path of success after his four wins in the previous two meetings of Estoril and Valencia. Steven Kane, the Irish driver in Racing Engineering's car two, is looking back at two very good races on the Jerez track in June and will try to fight for victory together with his teammate. Emilio de Villota, in his debut race with Racing Engineering, will give his best while substituting his sister Maria. Given his speed, Emilio is definitely another driver to watch out for in Jerez.
After a very emotional race weekend in Valencia where at the end of the first race, Borja Garcia had been given a 25 second penalty for his start, Racing Engineering appealed against the steward's decision. Therefore Borja Garcia continues to lead the Spanish Formula 3 Championship with five points ahead of the Portuguese driver Manuel Giao. Nevertheless Borja is going to try for another double win in Jerez to underline his dominance on the racetrack. With four more races left, the championship continues to be tight and now enters its final stages.
Racing Engineering's Steven Kane, who really enjoys the Jerez track, will definitely be one of the top drivers of the meeting given his lap times during the previous test sessions held at this circuit. Knowing Steven, he won't settle for anything else than a win and his performance during this season of the Spanish Formula 3 Championship proves him to be headed in that direction.
Emilio de Villota, who joined Racing Engineering only recently due to the injuries of his sister Maria, knows the track as well as the car. Therefore Racing Engineering is convinced that the 22 years old driver, together with Borja and Steven, will carry out some great races. However, Emilio is facing a stressful weekend as he will also be participating in the final round of the Formula BMW Baviera, where he is fighting for the championship title.

"The case of Borja Garcia's penalization has been presented to the Federation last Tuesday and we are currently waiting for the decision. This, however, does not influence our work," Thomas Couyotopoulo, Racing Engineering's team manager, announced. "We are one hundred percent concentrating on the Jerez races, where we want to score as many points as possible. Everything seems to be on schedule for our fourth consecutive team championship title, whereas the drivers championship depends on the Federation's decision. Both, Borja and Steven, are candidates for the top of the podium and I am convinced Giao will try to keep them from getting there. I am sure we will see some tight and interesting races. On the other hand, with Emilio de Villota, we have a driver who is racing with us for the first time. From our side we will be one hundred percent behind him, so he will be able to perform to the best of his ability, which I am sure he will."