Mikola takes pole position for Round one of the AF3 Series

Indonesian brothers, Ananda Mikola and Moreno Soeprapto, made it a family clean sweep taking pole position for the overall race and Promotions Class respectively. Christian Jones and Dado Pena completed the top three with Greg Murphy and John Marcelo second and third in the Promotions Class.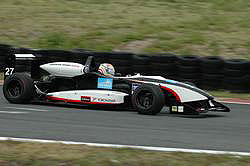 mmm

Qualifying Round 1

Ananda Mikola 1m 22.410
Christian Jones 1m 22.689
Dado Pena 1m 23.648
John O'Hara 1m 23.651
Tyson Sy 1m 23.742
James Winslow 1m 23.856
Rodolfo Avila 1m 24.045
Moreno 1m 24.920
Pepon Marave 1m 25.443
Greg Murphy 1m 27.258
John Marcelo 1m 27.814
Enzo Pastor 1m 27.829 – DQ
JP Carino 1m 29.030
JP Tuason 1m 29.657
Renan Morales 1m 32.040 – DQ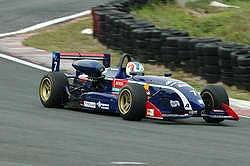 Pastor and Morales will start from the back after they failed the airbox vacuum test. The first race tomorrow, Sunday 10th April, promisesto be interesting. Mikola will be determined to show Jones the way round but Jones is renowned for his good starts. Add in O'Hara and new boys Pena, Sy and Winslow and fireworks are expected. Philippine residients can watch both Addict Mobile AF3 Superprix live on Studio 23, first race 10.30am and second round 2.30pm. www.pldtmypad.com subscribers can watch the race live over the internet whilst anyone can view the races by logging on www.asianf3.net and clicking on the international viewers button.