Team BRM opens 2005 F3 account on top at Wakefield.
WAKEFIELD PARK, GOLUBURN (Friday, 25th February, 2005.) Round 1 of the 2005 Kumho Tyres Australian Formula 3 championship got underway today at Wakefield Park Raceway in New South Wales, with hot and sunny conditions greeting teams at the 2.2 km-long circuit near Goulburn.

Team BRM drivers Nic Jordan, Tim Slade, Michael Trimble and Marc Williams completed two 30 minute long sessions and completed a days running that should see all of the South Australian team's stars' close to the top of their respective classes in the strong 16-car field that has fronted at Wakefield.

This weekend is a significant weekend for the team, being the first time that they have had the opportunity to compete for the prestigious CAMS Gold Star Award, after the Kumho Tyres sponsored series was awarded the Australian Drivers Championship title during the off season.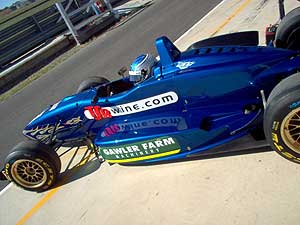 Tim Slade – Gawler Farm Machinery / TSRWine.com Dallara F301 Speiss Opel
Best Time: 0:55.2951s Laps Completed: 38 Combined result: 1st
Slade, driving his recently launched James Rosenberg owned Dallara, completed 38 laps in total, and set the quickest time for the day in the first of the two 30 minute sessions. Slade worked on refining the set-up of his Dallara during both sessions, although his second session was hindered by traffic and two red flag stoppages.
This is Slade's first meeting as a full time team BRM driver, after completing in a one off round with the team at Mallala last year. The 18-year-old Adelaidian will be hoping to pick off where he left off after Mallala – he won the opening race against fierce competition.






Nic Jordan – AMS Group Dallara F301 Speiss Opel
Best Time: 0:56.1940s Laps Completed: 28 Combined result: 7th
2004 Trophy class winner Jordan had a mixed day, completing only 28 laps after some gearbox difficulties hindered his progress in the first session. The team completed repairs before the second session, but traffic hassles confined him to only 5 laps in the 30-minute session, electing to preserve the car for tomorrow's two sessions.
This weekend marks the first time Jordan will have completed in a championship class car at an Australian Formula 3 round, after dominating the trophy class (for older model cars) in 2004.
Michael Trimble – Dallara F304 Speiss Opel
Best Time: 0:55.9155s Laps Completed: 43 Combined result: 5th
Michael Trimble, making his Kumho Tyres Australian Formula 3 debut this weekend, completed a team – high 43 laps, setting a best of 55.9155 in the 1st session – a result that saw him 5th on the combined times.
This meeting also makes the Australian debut for the Dallara F304 Speiss chassis that was campaigned by Aussie Will Davison in British Formula 3 last year.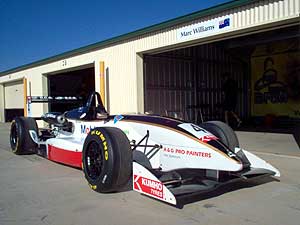 Marc Williams – Mobil Dallara F398 Speiss Opel
Best Time: 0:58.0470s Laps Completed: 27 Combined result: 13th
Another driver making his debut for the team this weekend, Williams continued to come to grips with the 2004 trophy Class winning car and the Wakefield Park circuit, completing 27 laps for a best of 58.0470s and 2nd in trophy class.
The 16-year-old kiwi, who has listed his goal for the weekend as nothing short of winning Trophy Class, had a troubled second session, with a slight engine misfire relegating the driver to only minimal track time.