Trimble wins, Slade has strong start to season at Wakefield.
WAKEFIELD PARK, GOLUBURN (Sunday, 27th February, 2005.) Team BRM Drivers Michael Trimble and Tim Slade have opened their accounts for the 2005 Kumho Tyres Australian Formula 3 championship strongly today at Wakefield Park, challenging at the top of a very competitive Australian F3 field competing at the 2.2km Wakefield Park Circuit.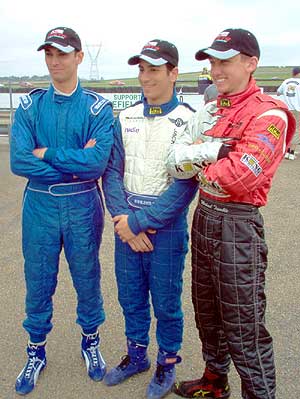 For Trimble, the weekend was highlighted by a win in race two - the Melbournian taking advantage of some off track excursions by the leaders to assume the lead just after half race distance. He held off a fast finishing Aaron Caratti and Chris Alajajian to record a remarkable race win in just his second ever Formula 3 race start.
The opening race of the day started Trimble's weekend off well – a third place finish a definite sign of things to come by the man driving the Ex Will Davison Dallara F304.
"To have a win on our debut round is really pretty special," enthused a delighted Trimble. "We had a few things go my way today, but in the end it's just so great to get this kind of a result at my first race in this category.
"We knew this would be a tough weekend, due to the fact we haven't been able to spend much time in the new car, so to show the kind of pace we did is great."
South Australian Tim Slade showed plenty of the potential the 18 year old showed in his Formula 3 debut at Mallala last year, racing competitively with the leaders and scoring a solid haul of points in his chase for the Gold Star award.
Race 1 was Slade's strongest display – the Gawler Farm Machinery / TSRWine.com Dallara holding down third for a majority of the race. Only a slight off, which caused Slade to loose momentum, relegated him to 4th at race's end.
Consolidation was the key for race two, Slade holding on to fifth for the entire race after getting involved in an almighty battle for the lead early on. The combined results will see the talented South Australian right where he wants to be in the Chase for the Australian Drivers Championship – at the pointy end of the very competitive field.
"I am really happy to come away from the weekend unscathed," Slade said after the second race today. "We scored some really good championship points towards what will be a really competitive championship."
Team BRM will next take to the track for the Australian Grand Prix Support races, between March 3 – 6 at Albert Park in Melbourne.