Kiwi contingent on the pace in Gold Star Opener at Wakefield Park.
WAKEFIELD PARK, GOLUBURN (Sunday, 27th February, 2005.) Team BRM's two Kiwi drivers have shown their pace in today's 2005 Kumho Tyres Australian Formula 3 Championship season opener at Wakefield Park Raceway near Goulburn.
In overcast but dry conditions, Nic Jordan started his charge for the Australian Drivers championship with a mixed weekend, starting from midfield in both races after a tough couple of Qualifying sessions on Saturday.
Race one started badly for Jordan, the 16-year-old Kiwi stalling his car on the grid on start and dropping back to the rear of the field. What followed was an inspired charge through the field by the youngster, setting consistent lap times in the mid 55 and low 56 second bracket for the entire race, which resulted in a 7th place finish.
Race two was better for Jordan, making a solid start and running strongly with the leading pack at the front of the field. Dropping off slightly towards the end of the race to conserve the car to ensure a solid points score, Jordan ended the weekend with a 6th place finish and a good points haul.
"In the first race today I stuffed up the start," Jordan said. "But I was able to chase them down as the race progressed because the car was handling really well.
The second race was okay – I tried really hard to catch the leaders, but I didn't want to do anything silly at the start of the season, so I just settled in and did it for points."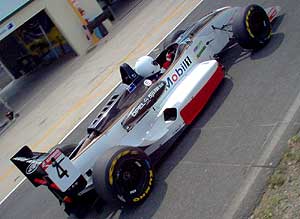 Team BRM's new Trophy class competitor, Marc Williams, headed into today's two races with the one aim to get some more miles under his belt, after two days of restricted running in his Mobil 1 Dallara F398.
Williams completed a solid weekend, scoring good points for his Kumho Tyres Australian Formula 3 Trophy Class campaign, finishing 13th in the opening encounter (After ending up in the sand trap on the race's first start – the race was restarted after a car stalled on the grid enabling the marshals to recover William's car.) after a strong drive through the field.
Race 2 was a bit tougher, a couple of off track excursions slowing the Kiwi rookie.
"This round has been everything I have expected about driving a Formula 3 car, and more," enthused Williams. "Today I just took it lap by lap and I was getting better and improving my times. I'm going into the next race with a lot more confidence when it comes to driving these cars."
The next time Team BRM's Kiwi attack hits the track will be at the Australian Grand Prix, this Thursday.