Tim Slade Racing announces temporary withdrawal from F3 competition.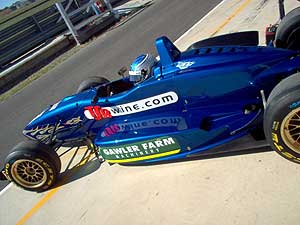 ADELAIDE (Monday, May 9th 2005.) The following is a statement from Tim Slade Racing, who today has been forced to announce their withdrawal from the 2005 Kumho Tyres Australian Formula 3 championship – and their partnership with Adelaide based Team BRM - for at least the immediate future.
"Unfortunately, we have been forced to withdraw at this early stage of the season due to funding not materialising in time for us to commit to the remainder of the season.
Tim Slade Racing and Tim Slade are dedicated to achieving success and will not compromise this with an under funded campaign.





We have been working hard within the team to make this an entirely South Australian campaign. It's a disappointment to the team that we not been able to secure the necessary Corporate Support in our home state.
TSR will however continue with its fundraising to get Tim back on track as soon as possible, details of the "Brian Cadd" function and a Sports mans night featuring a number of motor sport legends will be released soon.
Also if you have tried some of the TSRwine.com Quality Cleanskins please place your order for more, if you haven't now is the time to try them and help Tim get back on track.
We know in Tim Slade that we have one of the most talented and promising young drivers in South Australia - and Australia - today. We are confident that the future holds great things for Tim and we are committed to giving him the best possible chance to achieve the kind of results he deserves.
Tim Slade Racing would like to publicly acknowledge the support of all who have assisted and sponsored the team over the course of the season to date, including Adelaide Ice Service, Revolution Racegear, Gawler Farm Machinery and team BRM.
Please help us in overcoming our current problems by supporting our upcoming functions and TSRwine, if you can assist with Corporate Support or may know someone who can, please contact the team via their website at www.tsrwine.com."