Lewis Hamilton wins at Pau, Adrian Sutil comes second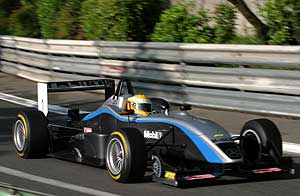 In the fourth round of the 2005 Formula 3 Euro Series season, Lewis Hamilton (ASM F3, Dallara-Mercedes) succeeded in securing his third victory, with his team-mate, Adrian Sutil (ASM F3, Dallara-Mercedes), finishing second, on the streets of Pau, France. Following his second place in yesterday's race, Loïc Duval came third, thus securing another podium finish, today.
Adrian Sutil won the start and passed the pole-sitter, his team-mate Lewis Hamilton. But on lap nine his pressurising team-mate forced him into a driving mistake. Sutil spun and made slight contact with the tyre wall but could continue in second position.




Behind the ASM pairing, Loïc Duval and James Rossiter (both Signature-Plus, Dallara Opel) finished third and fourth respectively, with Fabio Carbone (Signature, SLC R1-Opel), the only driver in the field to race a chassis not designed by Dallara, adding to Signature's team result by securing fifth place and scoring the first points behind the wheel of the Signature-design chassis.
Lewis Hamilton (ASM F3): "This has been a fantastic weekend for me. I made a poor start, thus offering Adrian the chance of taking the lead. If he hadn't made his mistake on lap nine it would have been difficult for me to win the race, as there are nearly no overtaking opportunities, at Pau. To win three of the first four rounds of the season is a great result I never expected to achieve."
Adrian Sutil (ASM F3): "I made a great start and in the early stages, my car handled just great. But then the tyre performance started to decrease and I made a stupid mistake at the end of the start-finish straight, thus offering Lewis the opportunity to close the gap. I was too fast when entering the following corner and spun into the tyre wall. Fortunately I didn't damage my car and could continue. Nevertheless, I proved today that I've got what it needs top win races. And I will do so, this year."
Loïc Duval (Signature-Plus): "I made a good start, but unfortunately there wasn't a gap between Adrian and Lewis. Therefore, I focused on defending my third place. I think I was able to match Lewis' pace, but overtaking is anything but easy, in Pau. At the end of the day, I'm happy to have been able to secure two podium finishes this weekend, thus scoring vital points for the championship."
Track temperature: 20.0 ºC
Air temperature: 17.0 ºC