ASM F3 takes first row on the grid: Hamilton on pole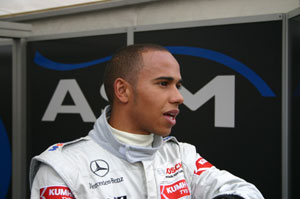 In the qualifying for the fourth round of the 2005 Formula 3 Euro Series season, Lewis Hamilton (ASM F3, Dallara-Mercedes, 1:11.021 minutes) succeeded in clinching his second pole position of the year. His team-mate, Adrian Sutil (ASM F3, Dallara-Mercedes, 1:11.806 minutes) finished second to share the first row of the grid with Hamilton, while Loïc Duval (Signature-Plus, Dallara-Opel, 1:11.156 minutes) and James Rossiter (Signature-Plus, Dallara-Opel, 1:12.036 minutes) secured third and fourth grid positions.







Due to the special characteristic of the Pau street circuit, the qualifying was contested in two groups. The drivers of both groups had 20 minutes time to set their qualifying laps for the 29-lap race on Sunday. In the first group, consisting of the drivers with even numbers, Adrian Sutil took the lead with just five more minutes to go. Two minutes later, Fabio Carbone (Signature, SLC R1-Opel) improved to third place in his group, thus gaining a promising position on the third row of the grid.
In the group with the uneven numbers, Lewis Hamilton and Loïc Duval were involved in a thrilling battle, with the Briton coming out on top.
Several drivers, Ross Zwolsman (Team Zwolsman, Dallara-Opel, 1:13.075 minutes), Marco Bonanomi (Prema Powerteam , Dallara-Opel, 1:12.604 minutes) and rookie Átila Abreu (Mücke Motorsport, Dallara-Mercedes, 1:20.610 minutes) had to find out that the slightest mistake can have serious consequences, at the narrow, twisting 2.67-kilometre circuit at the foot of the Pyrenees, when the tyre walls made an early end to their qualifying performances.
Lewis Hamilton (ASM F3): "I was hampered by a steering problem, therefore, it was just impossible for me to set a faster lap time. Nevertheless, I succeeded in performing some quite nice laps."
Adrian Sutil (ASM F3): "Altogether, that's quite a promising starting position. The qualifying was rather difficult as it was interrupted by a lot of yellow phases. Therefore, it wasn't easy to complete a quick lap. I think I have not yet succeeded in making full use of my potential."
Loïc Duval (Signature-Plus): "Considering the fact that I was half a second slower than Lewis, this afternoon, this has been a rather satisfying result as I succeeded in reducing his lead to one tenth of a second. This proves that we can match the pace of ASM. Here in Pau, a lot of things can happen, on Sunday. I hope to be able to secure a podium finish."
Track temperature: 30.1 ºC
Air temperature: 21.0 ºC