Lewis Hamilton wins at Spa, Adrian Sutil comes 2nd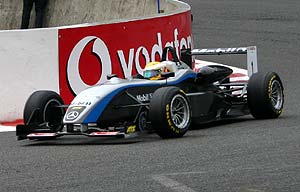 Following his disqualification regarding yesterday's race, Lewis Hamilton (ASM F3, Dallara-Mercedes) succeeded in securing his fourth win of the season, today, in the sixth 2005 Formula 3 Euro Series round. At the Belgian GP circuit, the 6.968-kilometre Ardennes rollercoaster of Spa-Francorchamps, Hamilton's team-mate, Adrian Sutil (ASM F3, Dallara-Mercedes), finished second, thus securing the ASM team's third one-two in the season with Lucas di Grassi (Manor Motorsport, Dallara-Mercedes) taking third place.




In the first lap, Lewis Hamilton performed a sensational overtaking manoeuvre to pass his team-mate, Adrian Sutil, in Eau Rouge for the lead. Afterwards, the ASM pairing opened a massive gap on the field, while their closest chasers spun together off the track. At the end of the long Blanchiment straight, Esteban Guerrieri (Team Midland Euroseries, Dallara-Toyota) and Giedo van der Garde (Team Rosberg, Dallara-Opel) were just too fast and spun, thus losing a lot of ground and opening Lucas di Grassi the chance of moving up to third place and taking a podium finish.
Japanese Kohei Hirate (Team Rosberg, Dallara-Opel) clinched an even better result than yesterday and came fourth, while Belgian Greg Franchi (Prema Powerteam, Dallara-Opel) finished seventh, thus scoring his first Formula 3 Euro Series points ever, in his home race, at Spa-Francorchamps.
Lewis Hamilton (ASM F3): "Adrian and I made a truly great start. It was important that I had the chance of driving in Adrian's slipstream, after La Source, so I could attack him when approaching Eau Rouge. My overtaking manoeuvre was at the limit, but Adrian was very fair and allowed me enough space to survive. My win today was the best possible answer to yesterday's disqualification."
Adrian Sutil (ASM F3): "Lewis and I entered Eau Rouge side by side. Lewis' manoeuvre was tough but fair. Afterwards, I could match Lewis' pace and set identical lap times until my tyres started to degrade. Altogether, this has turned out to be a very successful weekend, for me."
Lucas di Grassi (Manor Motorsport): "I made a good start but than I was pushed onto the grass by Giedo van der Garde and I dropped back to fifth position. But one lap later, Esteban Guerrieri and van der Garde went off and I continued in third position and experienced an uneventful race."
Track temperature: 10.3 ºC
Air temperature: 7.9 ºC