Lewis Hamilton wins in Monaco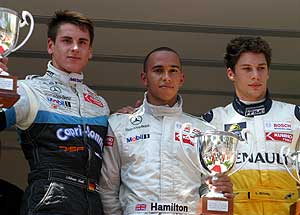 Lewis Hamilton (ASM F3, Dallara-Mercedes) is the winner of the seventh round of the 2005 Formula 3 Euro Series Season, held as support race of the Monaco F1 Grand Prix. The McLaren-Mercedes protégé crossed the line 1.777 seconds ahead of his team-mate, Adrian Sutil (ASM F3, Dallara-Mercedes), with Loïc Duval (Signature-Plus, Dallara-Opel) finishing third in the 18-lap race at the narrow and twisting 3.340-kilometre 'circuit de la Principauté'.










The battle for the win in the Formula 3 Euro Series' inaugural Monaco race was virtually over right at the start when Hamilton made use of his pole position to take the lead. His team-mate, Adrian Sutil, followed close behind, but there was just no opportunity of passing the Briton. In lap seven, the Safety-Car had to come out as Thomas Holzer (AM-Holzer Rennsport, Dallara-Opel) had skidded into the crash barriers after exiting the 'Swimming pool' chicane. In lap nine, the race was restarted and Hamilton controlled the field to take his fifth win in 2005 and the sixth in his Formula 3 Euros Series career.
Behind the Signature-Plus team-mates – Loïc Duval and James Rossiter (Dallara-Opel) – Franck Perera (Prema Powerteam, Dallara-Opel) secured fifth place, with Fabio Carbone (Signature, SLC R1-Opel) finishing sixth. Maximilian Götz (HBR Motorsport, Dallara-Opel) was penalised with a drive-thru penalty for a jump-start, thus losing his chance of scoring points. At the end of the 18 laps, he had to settle for 15th place.
Lewis Hamilton (ASM F3): "It's just fantastic! To win here, in Monaco, is something very special. Adrian was extremely fast and it was really difficult to keep him behind. Today I had to work really hard to be the first to take the chequered flag."
Adrian Sutil (ASM F3): "It was a great race and my car handled extremely well. To complete 18 laps on a street circuit you have to be far more focused than in a race at a regular road track. During the course of the race, I got along better and better as I gained additional experience lap by lap."
Loïc Duval (Signature-Plus): "I made a solid start and had no chance of passing Adrian or Lewis. After the Safety-Car phase, I suddenly experience a suspension problem – my car's handling was extremely nervous and aggressive. As I will be again third on the grid for tomorrow's race we will have to wait and see if I will be able secure a better result, then."
Track temperature: 21.0 ºC
Air temperature: 37.1 ºC