FIRST MEETING OF THE F3 EUROSERIES CHAMPIONSHIP.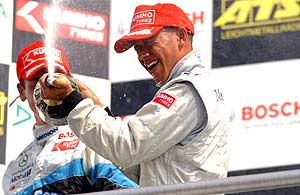 The ASM team's start to the Euroseries F3 Championship 2005 season could not have been better, with a win and second place from its new drivers, Lewis Hamilton and Adrian Sutil. After qualifying on the first row of the grid for race one, the Anglo-German pair secured the best start to the season by finishing well ahead of their opponents and winning the race.
The qualifying for the second race, held on a tricky track, did not go as smoothly and compromised the Dallara Mercedes' race, standing in 5th (Hamilton) and 10th (Sutil) position on the starting grid. Their fantastic fight back to the top on Sunday has once again demonstrated the strength of the ASM team and of its drivers, who could have claimed victory, before the track conditions changed towards the end fooling both drivers, Adrian failing to finish due to a gearbox failure two laps form the end.


Frédéric Vasseur :
It was not a perfect weekend – as we could have done better – but definitely a very good start to the season. We took all that was available in the first round with a perfect race, without taking too many risks, to achieve the best double of the season. Qualifying for the second race was hard to predict, as the track was tricky and often disturbed by yellow or red flags. We opted for a soaked track set up, but it dried towards the end of the race, causing us to lose places despite very good driving from Lewis and Adrian, who had fought back to the top. It was overall a very good weekend. Last year we left Hockenheim standing on the second raw, after two victories by Rosberg, we are therefore doing better. We are especially happy to win here as it is the 8th time we have competed at Hockenheim, and this track, up to now, had never brought us victory, despite five pole positions.
Lewis Hamilton:
It was great to win the first race of the season. It has been a good race weekend overall with victory on Saturday and third place on Sunday. We were always fast, but we still have to work and improve on our way of dealing with a sudden change of track due to weather conditions.
Adrian Sutil:
The first race was fantastic, the second one not so great… everything wet well on Saturday and after a difficult year, I am thrilled to get a podium finish for my first race in the F3 Euroseries with ASM. The second race started well despite starting 10th on the grid. I quickly climbed up to 4th position after 8 laps, the car was performing and I was setting good lap times. But the track dried and my tyres rapidly became very hot, due to the high-pressure wet weather set up strategy. I was in line for a few points nevertheless, when my gearbox broke two laps before the end of the race. I am disappointed but before anything else I am thrilled with the excellent results in the first race and very happy to be working with this team. Lewis is not just my teammate, he is a friend, and my engineer is more than an engineer as we often joke around together. Everybody is very nice to me and I really feel at ease in this studious and yet relaxed environment. I am looking forward to Pau, an urban track particularly exciting. Our Dallara Mercedes should perform well there if lined up with last year's results.