Formula 3 Euro Series 2005 - R1 Hockenheim - Race Round-Up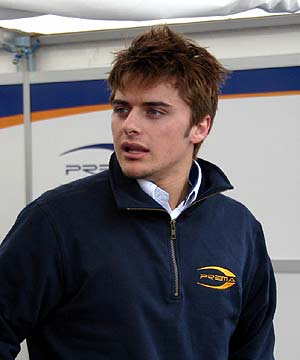 First seasonal appointment for the Formula 3 Euro Series Championship and first podium for Marco Bonanomi, on the German circuit of Hockenheim. As programmed, there were two races where the twenty-three drivers participating in the series battled during the whole weekend. Prema was constantly among the protagonists, from the free tests with Franck Perera and Marco Bonanomi who marked the fourth and ninth chronometric results, respectively. The weather conditions were very changeable and affected the qualifying sessions. Bonanomi had a great first race. After an excellent start, he was able to recover several places and crossed the finish line in third overall position. This was the first Italian podium in the history of the Formula 3 Euro Series Championship. Unfortunately, Frenchman Franck Perera achieved good results in the free practices, but he was not able to repeat his good performance because in both races he started form a position in the middle of the group. Franchi was forced to two recovering races as he started from a back position.

Davide De Gobbi, Prema Team Manager commented the result of the first race: "Certainly it is a very positive result for Marco, who confirmed the potentialities showed in the pre-championship tests. In the second race, a mistake in the early stages unfortunately vanished his possibilities to arrive again among the five tops. Different situation for Perera and Franchi. Franck, in the free tests, was soon among the possible protagonists. His positions in both starting grids were conditioned by two adverse qualifying sessions. Greg, underwent a very difficult weekend, from every point of view. Now, we have to analyse all the information gathered during this weekend and get ready for the next race in programme, on the city circuit of Pau."




Marco Bonanomi: "Surely, it was a very positive weekend. In both races I could have been among the best five drivers. I am very pleased with my first podium in Formula 3 Euro Series. The team worked brilliantly during the whole weekend. Due to my mistake in race 2 we were not able to score more points."
Greg Franchi: "I'd better forget this weekend. The results of the qualifying sessions affected both races. Starting from a back position certainly conditioned the final result. Now we must react and get ready for next weekend in Pau."
Franck Perera: "I was able to get only one point during the whole weekend. In the free tests we were soon competitive, then a bit of bad luck and some mistakes I made conditioned the results in the qualifying sessions. In race 1 a crash in the first lap forced me to retire while in the second race I was only eighth. Now, together with the team we must work hard and get ready for next race, in Pau, where we want to be protagonists again."