20 April 2005
World Series by Renault
Official Test Paul Ricard, 19 April 2005
19 drivers in one second!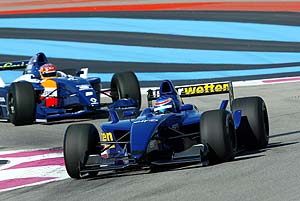 The Circuit of Paul Ricard HTTT is the scene of the teams and drivers' last chance to prepare for the World Series by Renault, testing over two days before the season starts in earnest on May 1, in Zolder. Carlin Motorsport, Pons Racing and Dams have headed the list of times, showing the vast array of talent involved in this all-new championship. 19 drivers packed in one second and the Aussi star Will Power setting a new lap record of 1.14'909, at an average speed of 191.2km/h.

Will Power (Carlin Motorsport) recorded the best timed lap today using the 3C-type track solution (3.841 km) at Paul Ricard, setting a new lap record for the Formula Renault 3.5 of 1.14'909 in the process. "The new car has much more downforce, it's a completely different car! We have improved on the best registered lap with the former Dallara Nissan cars (1.16'7-Robert Kubica) by almost two seconds".



Even before the kick-off of this season's racing, the World Series by Renault championship has once again provided evidence of the closeness and sheer talent of the 29 entered drivers: Carlin Motorsport, Pons Racing and DAMS occupy the leading positions with Power, Vallés and Maldonado separated by only 0.02 seconds!!
Eurointernational is at the head of the "Italian Armada" as 7 Italian teams are taking part in testing. Antonio Ferrari explains it all: "We have solved all our little problems and even with used tyres we were 8th overall, which is proof enough of our progress. I'm really happy about today's results".
In the news, the Brazilian driver Jaime Melo has also been testing today with Victory, due to his contract with the Italian team as a development driver. On the other hand, it seems that Partiva Sureswaren has some budget problems and could be replaced by another driver, so Great Dame Racing may now be open to future discussions about a driver spot for them.
Result
| | | | | | | | | |
| --- | --- | --- | --- | --- | --- | --- | --- | --- |
| Pos. | No. | Driver | Team | Chassis | Nat. | Time | Gap | Laps |
| 1 | 4 | POWER, Will | CARLIN M.S. | F.RENAULT | AUS | 1:14,909 | | 96 |
| 2 | 5 | VALLES, Adrián | PONS RACING | F.RENAULT | SPA | 1:14,927 | 00,018 | 83 |
| 3 | 23 | MALDONADO, Pastor | DAMS | F.RENAULT | VEN | 1:14,965 | 00,056 | 101 |
| 4 | 16 | PAGENAUD, Simon | SAULNIER R. | F.RENAULT | FRA | 1:15,358 | 00,449 | 86 |
| 5 | 28 | FLEMING, Colin | JENZER MS | F.RENAULT | USA | 1:15,116 | 00,207 | 91 |
| 6 | 22 | DANIELSSON, Alex | DAMS | F.RENAULT | SWE | 1:15,201 | 00,292 | 68 |
| 7 | 3 | ZUBER, Andreas | CARLIN M.S. | F.RENAULT | AUT | 1:15,358 | 00,449 | 90 |
| 8 | 1 | MONDINI, Giorgio | EURO INTERNATIONAL | F.RENAULT | ITA | 1:15,454 | 00,545 | 85 |
| 9 | 18 | WINKELHOCK, Markus | DRACO MR. USA | F.RENAULT | GER | 1:15,458 | 00,549 | 62 |
| 10 | 15 | GOMMENDY, Tristan | KTR | F.RENAULT | FRA | 1:15,590 | 00,681 | 67 |
| 11 | 21 | SALIGNON, Eric | CRAM COMP. | F.RENAULT | FRA | 1:15,597 | 00,688 | 75 |
| 12 | 30 | PROETTO, Stefano | INTERWETTEN.COM | F.RENAULT | ITA | 1:15,620 | 00,711 | 68 |
| 13 | 19 | MONTANARI, Christian | DRACO M.R.USA | F.RENAULT | RSM | 1:15,647 | 00,738 | 52 |
| 14 | 20 | PASINI, Damien | CRAM COMP. | F.RENAULT | ITA | 1:15,704 | 00,795 | 92 |
| 15 | 29 | LAROSA, Daniel | INTERWETTEN.COM | F.RENAULT | GER | 1:15,706 | 00,797 | 79 |
| 16 | 27 | PILET, Patrick | JENZER MS | F.RENAULT | FRA | 1:15,718 | 00,809 | 81 |
| 17 | 6 | MIGUEZ, Celso | PONS RACING | F.RENAULT | SPA | 1:15,729 | 00,820 | 72 |
| 18 | 24 | SURESHWAREN, Parthiva | GD RACING | F.RENAULT | IND | 1:15,737 | 00,828 | 101 |
| 19 | 2 | MENEGHELLO, Matteo | EUROINTERNATIONAL | F.RENAULT | ITA | 1:15,795 | 00,886 | 90 |
| 20 | 12 | BELLAROSA, Iván | AVELON FORMULA | F.RENAULT | ITA | 1:15,947 | 01,038 | 90 |
| 21 | 9 | TOCCACELO, Enrico | VICTORY ENGIN. | F.RENAULT | ITA | 1:15,966 | 01,057 | 97 |
| 22 | 32 | TEDESCHI, Giovanni | RC MOTORSPORT | F.RENAULT | ITA | 1:16,002 | 01,093 | 95 |
| 23 | 14 | LAGEN, Jaap Van | KTR | F.RENAULT | NED | 1:16,009 | 01,100 | 45 |
| 24 | 10 | KOSTKA, Tomas | VICTORY ENGIN. | F.RENAULT | CZE | 1:16,162 | 01,253 | 81 |
| 25 | 17 | FUKUDA, Ryo | SAULNIER R. | F.RENAULT | JPN | 1:16,382 | 01,473 | 66 |
| 26 | 31 | CHANDHOK, Karun | RC MOTORSPORT | F.RENAULT | IND | 1:16,793 | 01,884 | 126 |