21 April 2005
World Series by Renault
Official Test Paul Ricard, 20 April 2005
WORLD SERIES: READY TO RACE IN ZOLDER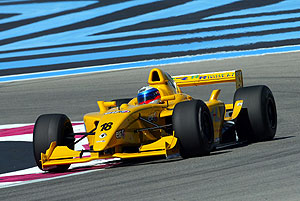 Markus Winkelhock (Draco Multiracing USA) has demolished the World Series by Renault lap record at the Paul Ricard HTTT Circuit, putting in an impressive lap time during the morning session of 1'13.813.
At the end of two days at Paul Ricard, the 30 entered teams in the World Series by Renault have completed almost 38,000 kilometres of pre-season testing with the new, 425bhp Formula Renault 3.5. Having succeeded in solving some initial technical problems, the drivers, representing 16 different countries, are now ready to race in Zolder!





The reliability of the cars and equality among the drivers have far exceeded expectations. A new record in Bugatti at Le Mans (Valles), a new record for the category in Valencia (Porteiro), and again, a new record at Paul Ricard.
Latest WSR news is that the Pons Racing team has unveiled their new car livery today, with the colours of Repsol and Telefonica, two big companies that are heavily involved in the high tech single-seater categories.
The best lap set by Matteo Meneghello has not been officially published, as it has been proved that the driver cut one of the chicanes.

Paul Ricard HTTT Circuit
Temp Air: Min. 9°C Max. 14.8°C
Sunny/Windy

Result Day 2
| | | | | | | | | |
| --- | --- | --- | --- | --- | --- | --- | --- | --- |
| Pos. | No. | Driver | Team | Chassis | Nat. | Time | Gap | Laps |
| 1 | 18 | WINKELHOCK, Markus | DRACO MR. USA | F.RENAULT | GER | 01:13,813 | | 33 |
| 2 | 4 | POWER, Will | CARLIN M.S. | F.RENAULT | AUS | 01:14,118 | 00,305 | 96 |
| 3 | 3 | ZUBER, Andreas | CARLIN M.S. | F.RENAULT | AUT | 01:14,182 | 00,369 | 78 |
| 4 | 5 | VALLES, Adrián | PONS RACING | F.RENAULT | SPA | 01:14,634 | 00,821 | 84 |
| 5 | 21 | SALIGNON, Eric | CRAM COMP. | F.RENAULT | FRA | 01:14,641 | 00,828 | 111 |
| 6 | 27 | PILET, Patrick | JENZER MS | F.RENAULT | FRA | 01:14,693 | 00,880 | 96 |
| 7 | 24 | SURESHWAREN, Parthiva | GD RACING | F.RENAULT | IND | 01:14,707 | 00,894 | 112 |
| 8 | 12 | BELLAROSA, Iván | AVELON FORMULA | F.RENAULT | ITA | 01:14,738 | 00,925 | 110 |
| 9 | 30 | PROETTO, Stefano | INTERWETTEN.COM | F.RENAULT | ITA | 01:14,789 | 00,976 | 94 |
| 10 | 28 | FLEMING, Colin | JENZER MS | F.RENAULT | USA | 01:14,799 | 00,986 | 106 |
| 11 | 22 | DANIELSSON, Alex | DAMS | F.RENAULT | SWE | 01:14,845 | 01,032 | 34 |
| 12 | 19 | MONTANARI, Christian | DRACO M.R.USA | F.RENAULT | RSM | 01:14,895 | 01,082 | 78 |
| 13 | 16 | PAGENAUD, Simon | SAULNIER R. | F.RENAULT | FRA | 01:15,034 | 01,221 | 71 |
| 14 | 9 | TOCCACELO, Enrico | VICTORY ENGIN. | F.RENAULT | ITA | 01:15,064 | 01,251 | 86 |
| 15 | 10 | KOSTKA, Tomas | VICTORY ENGIN. | F.RENAULT | CZE | 01:15,085 | 01,272 | 78 |
| 16 | 29 | LAROSA, Daniel | INTERWETTEN.COM | F.RENAULT | GER | 01:15,133 | 01,320 | 94 |
| 17 | 6 | MIGUEZ, Celso | PONS RACING | F.RENAULT | SPA | 01:15,162 | 01,349 | 89 |
| 18 | 32 | TEDESCHI, Giovanni | RC MOTORSPORT | F.RENAULT | ITA | 01:15,195 | 01,382 | 91 |
| 19 | 15 | GOMMENDY, Tristan | KTR | F.RENAULT | FRA | 01:15,237 | 01,424 | 66 |
| 20 | 23 | MALDONADO, Pastor | DAMS | F.RENAULT | VEN | 01:15,265 | 01,452 | 84 |
| 21 | 14 | LAGEN, Jaap Van | KTR | F.RENAULT | NED | 01:15,382 | 01,569 | 92 |
| 22 | 17 | FUKUDA, Ryo | SAULNIER R. | F.RENAULT | JPN | 01:15,510 | 01,697 | 69 |
| 23 | 31 | CHANDHOK, Karun | RC MOTORSPORT | F.RENAULT | IND | 01:15,523 | 02,228 | 77 |
| 24 | 1 | MONDINI, Giorgio | EURO INTERNATIONAL | F.RENAULT | ITA | 01:15,542 | 01,710 | 88 |
| 25 | 20 | PASINI, Damien | CRAM COMP. | F.RENAULT | ITA | 01:16,041 | 01,729 | 36 |