Countdown to WSR in Zolder!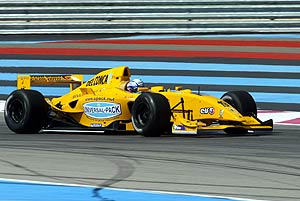 It's show time for the thirty drivers entered in the World Series by Renault, set to take part in their first two races this weekend. On Thursday morning they will drive out onto the Zolder circuit (Belgium) for the first of the free practice sessions. Given how close the competitors are – teams and the drivers alike – it is difficult to make any predictions…
With a total of sixteen different nationalities taking part, the World Series by Renault boasts a mouthwatering line-up. Coming from all corners of the globe, all thirty drivers have the same goal this weekend: come away from Zolder with the championship lead.




Attention will inevitably be focused on drivers who have already taken part in the World Series by Nissan and Formula Renault V6 championships. Thanks to his victory in the 2004 Eurocup FR V6, the car of Italian Giorgio Mondini (Eurointernational) will carry the number 1. Other drivers to watch from the group of Formula Renault V6 "veterans" include Swedish driver Alx Danielsson, San Marino driver Christian Montanari (Draco Multiracing USA), Frenchman Damien Pasini (Cram Competition), Italian Ivan Bellarosa and, perhaps most dangerously of all, Dutch driver Jaap Van Lagen, whose KTR team will undoubtedly want to do well on their home circuit.
Among the drivers converted from WSN, the Spanish pair of Adrian Valles (Pons Racing) and Felix Porteiro (Epsilon Euskadi), Frenchman Tristan Gommendy (KTR), Czech driver Tomas Kostka (Victory Engineering) and Yugoslav driver Milos Pavlovic (GD Racing) are the ones expected to feature most prominently. Not forgetting Indian driver Karun Chandhok (RC Motorsport), who would love to follow in the footsteps of fellow countryman Narain Karthikeyan, who finished sixth in the World Series by Nissan in 2004 and who now drives for Jordan in Formula 1.
Formula 1 is a familiar discipline for Japanese driver Ryo Fukuda (DHG Saulnier Racing) and Australian Will Power (Carlin Motorsport), former test drivers at Bar and Minardi respectively. Their experience puts them up among the favourites. The same goes for Italian driver Enrique Toccacelo (Victory Engineering), second in last year's Formula 3000 championship.
Several drivers have chosen to move over from the F3 Euro Series to the World Series by Renault: Austrian Andreas Zuber (Carlin Motorsport), Polish driver Robert Kubica (Epsilon Euskadi), German drivers Markus Winkelhock (Draco Multiracing USA) and Daniel La Rosa (Interwetten.com) and Frenchman Eric Salignon (Cram Competition).
But one thing is certain: faced with this group of twenty or so drivers with good experience of top class single-seater formula racing, the "young lions" coming from Formula Renault 2.0 will not be suffering from any kind of inferiority complex. Second and third in the 2004 Eurocup respectively, Frenchman Simon Pagenaud (DHG Saulnier Racing) and American Colin Flemming (Jenzer Motorsport) are ready for the move up. A feeling shared by French champion, Patrick Pilet (Jenzer Motorsport) and Italian champion, Venezuelan Pastor Maldonado (Dams), a graduate of the Renault Drivers Development programme. Included in this group of young lions are two former World Series Light drivers – Spaniard Celso Miguez (Pons Racing) and Italian Giovanni Tedeschi (RC Motorsport).
Private testing organized by Renault Sport at the Le Mans, Valencia and Paul Ricard circuits enabled an initial pecking order to be established. Winkelhock, Valles, Porteiro, Power, Van Lagen, Pavlovic, Montanari, Zuber, Kubica, Gommendy and Maldonado all took it in turns to make the running, which would suggest that no-one starts with a ready-made lead in this new discipline. From here on in, there'll only be one judge: the checkered flag!