Kubica sets a track lap record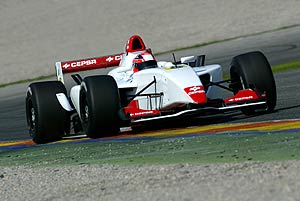 It did not take very long for the Formula Renault 3.5 cars to break the all-time Zolder track lap record. A few minutes before the end of the second session, the Polish driver Robert Kubica (Espilon Euskadi) became the only driver to go faster than the 1'19'' mark, recording a time of 1'18''863.

With two sessions of an hour and fifty minutes each, the teams had plenty of time to work on their set-ups. However, this very technical Belgian circuit proved the undoing of more than one of the drivers here today. The sessions were brought to a halt several times by a series of red flags.




This morning, the Spanish driver Felix Porteiro (Epsilon Euskadi) came off the worse for wear in a pretty violent collision. The gearbox was damaged and Michel Lecomte's team will have to work flat out to repair the car in time for tomorrow.
Meanwhile, the Draco Multiracing USA drivers put in the two best times of the first session, with Markus Winkelhock ahead of Christian Montanari.
But the times only started to come down really rapidly in the afternoon session. Jaap Van Lagen and Tristan Gommendy, the two drivers from the Belgian KTR team, stayed at the top of the timing screens for a long period. But with just half an hour of the session left, Adrian Valles (Pons Racing) and then Enrico Toccacelo (Victory Engineering) put paid to the Belgian team's early domination.
Some drivers just pushed the limit too hard. In doing so, Pastor Maldonado (Dams), Colin Fleming (Jenzer Motorsport) and Giorgio Mondini (Eurointernational) all ended up damaging their cars. In the periods of respite between the red flags shown for these incidents, Tristan Gommendy and Robert Kubica took it in turns to put in fastest times.
Then, just a few minutes before the chequered flag was shown, Edo Eli, from the RC Motorsport team, was hit by Tristan Gommendy's car in a pit lane collision. He had to be taken to hospital suffering from a leg injury. Everyone in the World Series by Renault paddock would like to take this opportunity to wish him a speedy recovery.