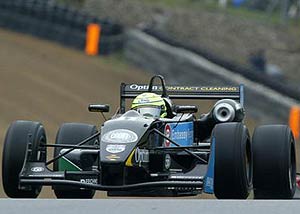 Danny Watts completed a superb 2004 British Formula 3 season at Brands Hatch yesterday with a 3rd placed finish that clinched 6th place in the overall points standings, despite missing three races earlier in the season. With another points haul in race 2, the Lola-Dome continued its remarkable run of scoring points in every round it has finished this season.
Coming in to the final two races at Brands Hatch, the Promatecme Lola-Dome was 5 points behind Carlin Motorsport's Alvaro Parente, but BRDC backed Watts was determined to overhaul the Portuguese Dallara driver and that is exactly what he did with another thrilling performance in difficult conditions.
Qualifying an excellent 4th on the grid, just 0.236 seconds away from pole, Danny made a good start to hold his position on a damp track. Opting to run on slick tyres, full concentration was needed throughout the race but the Lola-Dome showed its true mettle by pressuring Clivio Piccione's Dallara in the early laps.
"It was very difficult to find grip throughout the race because the track conditions were so slippery," said Watts. "I was able to run close to Clivio until he spun (on lap3) and to be honest I was not surprised because I had a fair few moments myself. From there it was a case of just keeping focused and I have to say that the car was fantastic towards the end of the race even though I was under pressure from Dirani."
Soaking up the pressure brilliantly, the Neil Brown prepared Mugen-Honda engined car took the flag to take its 4th podium position of the year behind race winner Nelsinho Piquet and runner-up James Rossiter.
"Its great to get another podium position at the end of a really enjoyable season for me and the team," said Watts at the conclusion to the season. "It's been a real privilege to develop the car along with Lola and Promatecme this year. It all came together very late but we have made the maximum of what we had and it is always great to beat cars that have had more testing in pre-season and are the more fancied runners."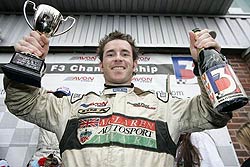 With Danny and the Promatecme team being forced to undertake the early season events on a race-by-race basis due to a budget shortfall, Embassy Racing stepped in to form a strong partnership with the Silverstone based team and add security for the remainder of the year. From then on the car has been a consistent frontrunner and has challenged the top Dallara's at the front of the field.
However, it was the history-making weekend at Castle Combe in June that brought the Lola-Dome F106 to global attention when Watts secured pole position and a dominant win to become the first non-Dallara chassis victor since 1993. Further podium positions in race 2 at Combe and then at Silverstone and Brands have contributed to a stellar season that gives Lola significant momentum for 2005 when the all-new B05/30 will hit the tracks.
Adam Airey, project manager of Lola's F3 programme has seen the car develop in to a race winner and concluded that 2005 will see more success in Lola's F3 racing activities. "Considering the whole package with Danny and Promatecme came together very late this year, it has to be said that everyone has done a very good job indeed. We have been flat out on the new car which we are very excited about and that is scheduled to test in December. We believe that with the B05/30 we can develop in to a consistent winner and use the full might of Lola's facilities to add significantly to the wins already achieved."
After scoring a combined 14 pole positions, 11 wins and 20 podium finishes in the British/Italian and Japanese Formula 3 Championships in 2004 alone, Lola would like to thank Dome Cars for a successful collaboration since 2002, the teams for competing and winning in the chassis and all the fantastic support from our technical suppliers. Lola would also like to mention the fabulous support from the fans who have followed the Embassy backed Promatecme Lola-Dome this season and their much valued support.
RESULTS – RACE 1
28 laps
1 James Rossiter Fortec Dallara Opel Spiess 22m20.713s
2 Nelson Piquet Jr Piquet Dallara Mugen-Honda 22m21.416
3 Danny Watts Promatecme Lola-Dome Mugen-Honda 22m33.351s
4 Danilo Dirani Carlin Dallara Mugen-Honda 22m35.397s
5 Marko Asmer Hitech Dallara Renault 22m35.888s
6 Rob Austin Menu Dallara Opel Spiess 22m35.933s
7 James Walker Hitech Dallara Renault 22m36.181s
8 Alvaro Parente Carlin Dallara Mugen-Honda 22m44.166s
9 Adam Carroll P1 Dallara Mugen Honda 22m44.469s
10 Andrew Thompson Hitech Dallara Renault 22m49.243s
Fastest Lap: Rob Austin 46.463s
RESULTS - RACE 2
28 laps
1 Nelson Piquet Jr Piquet Dallara Mugen-Honda 22m00.574s
2 James Rossiter Fortec Dallara Opel Spiess 22m10.270s
3 Lucas Di Grassi Hitech Dallara Renault 22m10.592s
4 Adam Carroll P1 Dallara Mugen Honda 22m10.881s
5 Alvaro Parente Carlin Dallara Mugen-Honda 22m11.860s
6 Danny Watts Promatecme Lola-Dome Mugen Honda 22m14.173s
7 Andrew Thompson Hitech Dallara Renault 22m14.548s
8 Marko Asmer Hitech Dallara Renault 22m16.779s
9 Will Power Alan Docking Dallara Mugen Honda 22m18.950s
10 James Walker Hitech Dallara Renault 22m20.453s
Fastest Lap: Marko Asmer 46.315s
Final Points Standings
1. Nelsinho Piquet 282
2. Adam Carroll 233
3. James Rossiter 228
4. Clivio Piccione 161
5. Danilo Dirani 146
6. Danny Watts 139
7. Alvaro Parente 137
8. Lucas Di Grassi 130
9. Will Power 112
10. Ernesto Viso 66

More information
Lola B05/30 Formulal 3 Preview 2005 (PDF Datei, 527 KB)