51st Macau Grand Prix - Macau, China, November 18th/21st 2004
© Stella-Maria Thomas and Lynne Waite
First Qualifying (Thursday November 18th):
Weather: Warm, sunny.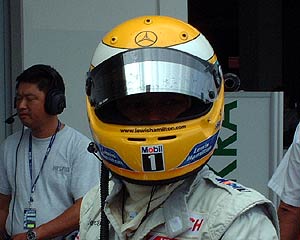 After a rain of Renaults, and a fairly messy local touring car race, the first official qualifying session for the 51st Macau Grand Prix finally got underway a mere 15 minutes later. With sunny skies and dry weather set in for the day, (and hopefully the weekend) conditions were as close to the optimum as they were likely to get on this tricky street circuit. As a result there was a long line of F3 cars waiting to go out on the track by the time the green lights went on and the cars were released onto track. The green flag symbol came up on the timing screens, but for some reason the officials in the pit lane were rather slow to get the message. Still, with 45 minutes to go, it probably wouldn't matter too much at the end of the day. One of the questions in everyone's minds was what sort of pole time we could expect. Fabio Carbone (Three Bond Racing) was in the low 2 minutes 13 seconds bracket last year, and was two seconds slower this morning (though still fastest overall by a good half second from Richard Antinucci, racing with TOM'S this year after a year in Japan). With lots of traffic to contend with you needed a lot of luck and a clear lap, which might explain why Loïc Duval (Signature) was clearly in no rush to go out, letting most of the rest of the field go before he emerged from the pits.
Getting out there in the crowd could get you in serious trouble, or at least make you look a bit stupid, as demonstrated by Kazuki Nakajima (TOM'S), who shot off up the slip road at Lisboa Bend and had to be hauled back.

Danny Watts (Hitech Racing) and Marko Asmer (Carlin Motorsport) were the first to set times but they weren't doing anything special yet; meanwhile Lewis Hamilton (Manor Motorsport) banged in a 2:16 on his very first lap, while Jamie Green (ASM Formule 3), Alexandre Premat (ASM Formule 3) and Franck Perera (Prema Powerteam) were all close to his time. Asmer was quickly up there too, but Hamilton was flying. Meanwhile, Giedo van der Garde (Signature) had made a bit of a fool of himself and crashed out on his out lap at San Francisco. With the wheels off the car on one side, he was clearly not going anywhere fast. Meanwhile, Hamilton, Green and Robert Kubica (Manor Motorsport) now made up the top three, and they were all in the 2.16s, where they were rapidly joined by Carbone, who leapfrogged to the top of the order, only to get shoved back when Hamilton found a couple of seconds from somewhere, and set a 2:14! Elsewhere, James Rossiter (Signature) had been last all bar his stricken teammate, but then he shot up the screen to go 6th.
With Hamilton ahead by over 1.5 seconds, the session was red flagged after Eric Salignon (ASM Formule 3) crashed out at Maternity Bend, and had to be retrieved. So with 34 minutes left to run, everyone trundled back to the pits while cleanup operations were instituted. The order at this point was Hamilton, Premat, Carbone, Green, Kubica, Antinucci, Rossiter, Ronnie Quintarelli (Inging), Marchy Lee (Meritus) and Lucas di Grassi (Hitech Racing).
And pretty much as soon as they got going again we had more mayhem with another of the sort of used car parks that you so often get at Melco Hairpin. Except that the driver that started it, Kubica, got out of his car in the middle of the track, abandoning the wreckage for the marshals to deal with. With another two cars involved - those of di Grassi and Daisuke Ikeda (Swiss Racing Team) - it took a while to clear the mess away and get most of the field moving again, Green being the first man to squeeze past and go on his way. As a result of all the mayhem, and that fact that the track wasn't clear, it was very hard for anyone to improve. Hamilton certainly didn't seem to think there was much point staying out there while the mess was being cleared away. As a result, the mid-part of the session proved singularly uneventful in terms of improvements, with most people diving into the pits for new tyres, taking advantage of the self-imposed pause. Meanwhile, Katsuyuki Hiranaka (Prema Powerteam) was able to make the first improvement, moving up to 9th, but otherwise there was not much going on out there. And then, with the track clear, and the Yokohama tyres nicely warmed up, the timing screens went mad. First Parente jumped to 6th, then Watts made a tremendous effort to 2nd, although he was still over half a second adrift of Hamilton. The next change came when Nakajima snatched 4th, just ahead of Adam Carroll (Menu Motorsport), who seems to have settled in nicely on this demanding circuit. Nico Rosberg (Opel Team Rosberg) then flexed his muscles to claim 3rd, while Perera was able to improve to 6th. Quintarelli was another to join the lemming-like rush up the order, and was now 4th. So, with slightly over a third of the session to go, Hamilton led, from Watts and Rosberg. That soon changed, however, with 2nd and 3rd going to Green and Parente, which meant Watts was 4th, from Rosberg and Quintarelli. Nakajima then showed that he's more than a chip off the old block, by slotting into 5th place. And he was joined on the 3rd row by Duval, who was almost immediately demoted a place by Naoki Yokomizo (Inging). Nakajima immediately leapt up a place, only to find he had Rosberg ahead of him in 3rd. Meanwhile, Perera and Antinucci finally managed to join the top 10. And then it all fell apart yet again. This time it was Parente in the wall at Teddy Yip Bend with terminal damage to the car. And so, with 10 minutes left to run, the session was once again red flagged while the overworked (and possibly overwrought) marshals rescued yet another batch of F3 boys.
At this stage the order was still Hamilton on provisional pole, from Green, Rosberg, Quintarelli, Parente, Nakajima, Yokomizo, Perera, Watts and Antinucci. At the restart it quickly became apparent that most people had either given up or their tyres were shot. There were few changes, although Carbone appeared to still have something in reserve. The only question was would it be enough? At least he was now backing in the top 10, with 8th place. The trouble was that Hamilton had now managed a 2.12 second time and was absolutely flying. He was beginning to look unstoppable, which should be no surprise to anyone who saw what he was capable off last year. He was now 1.3 seconds faster than Green, who seemed to have run out of answers. So Carbone had a go, upping the ante to go 2nd, less than a second behind Hamilton, who wasn't going to take that lying down. Green, meanwhile, dug deep to take 2nd back, though he was still a long way off Hamilton's time. Further down the order, Adam Carroll was now 9th looking steady on his debut here, while Watts had dropped to 10th. And then Hamilton went even faster, making you wonder what he was capable of. While all this was going on at the front, Antinucci joined Carbone on the 2nd row, and as the chequered flag came out Watts grabbed 5th.
And so, with the second session to be run tomorrow afternoon, the provisional order is Hamilton, Green, Carbone, Antinucci, Watts, Rosberg, Perera, Nakajima, Quintarelli and Parente.
11th was Carroll, from Rossiter, Prémat (who suffered a puncture at a critical stage), Yokomizo, Duval, a severely spooked Nelson Piquet (Piquet Sports) who couldn't seem to cope with the Melco Hairpin at all, Rob Austin, (Menu Motorsport), Hiranaka, Ho Pin Tung (Hitech Racing) who appears to have become Dutch again, having been Chinese for a couple of years when his handlers thought it might be financially advantageous, and Kubica.