Lewis Hamilton dominates first qualifying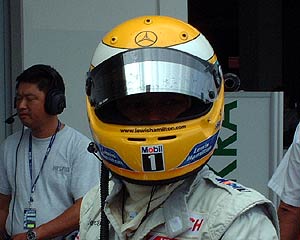 Briton Lewis Hamilton was in a class of his own during first qualifying for this weekend's Macau Formula 3 Grand Prix after he ended the day more than one second clear of his nearest rival. The Manor Motorsport driver kept his cool during an incident filled session to outpace fellow Briton Jamie Green, with Brazilian Fabio Carbone third overall.
Hamilton moved to the top of the timesheets from the first lap of qualifying and consistently improved his advantage despite a spate of session-stopping incidents that caused the red flags to come out twice. He even had a small moment himself - running wide on the dust - but was fortunate enough not to hit the wall.
"That was close," said Hamilton of the incident. "Considering that was my only scare in 45 minutes of running is not too bad, and I think I even impressed myself.


"I know what I came here to do and whether I am two seconds clear of the rest or one tenth doesn't really matter. Every lap I was doing out there was quicker and considering we did not use any new tyres, there should be more time to come."
Rival Green had been consistently quick through the session and set his best lap on his final flying lap - just pipping last year's pole position man Fabio Carbone. Richard Antinucci moved up the timesheets in the closing minutes to set the fourth fastest time, while Danny Watts admitted to taking a conservative approach as he took fifth place, one slot ahead of Nico Rosberg.
"I didn't use new tyres and just spent the session dialling myself and the car in," said Watts. "I decided to take the conservative approach today and I hope it pays dividends tomorrow."
The first red flag of the day was caused by Frenchman Eric Salignon, who crashed his ASM car at the Solitude Esses one third of the way through the session. After a short break, while his car was cleared from the track, the session resumed but almost straight away there were further incidents as a spate of drivers - including Robert Kubica, Marchy Lee, Lucas di Grassi and Marco Asmer - all came to grief out on the track.
Alvaro Parente caused the second red flag when he badly damaged his Carlin Motorsport car out the back of the circuit…Nelson Piquet Jr., one of the pre-event favourites, struggled to find pace and ended up 16th.