Kubica takes pole position for Macau Grand Prix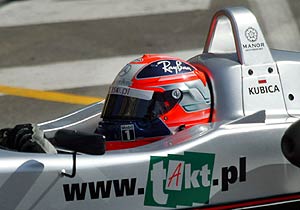 Robert Kubica left it until the final five minutes of qualifying on Friday to grab pole position for this weekend's Macau Grand Prix from the grasp of his Manor Motorsport team-mate Lewis Hamilton. During a tense fight for top honours on the grid, interrupted by three red flags, the pair of drivers proved dominant with Richard Antinucci grabbing the third slot in the closing seconds.
Kubica had been left a lowly 20th after first qualifying, having failed to find a clean lap and then getting caught up in an accident, but he benefited from an error by Hamilton in the second session to move to the top of the timesheets with five minutes remaining.
"I am obviously very happy," said Kubica. "I was maybe more lucky than anybody today because my fastest lap was completely free of traffic, but I knew I was fast even yesterday."
Hamilton was not too upset about the result, especially because starting from pole position is not such a big advantage at Macau. "I kept getting caught in traffic all the time, and my last attempt was pretty good, but I made a mistake and just brushed the barriers," he said. "I am happy for my team-mate though and looking forward to the race."
Antinucci put in his best lap in the final seconds of the session, after it resumed following a red flag period to allow the drivers a final attempt at bettering their times. Although he claimed the actual lap itself was not that special, because earlier better attempts had been ruined by traffic, he was still pleased with the result. Nico Rosberg will start fourth, with Nelson Piquet also moving up the order in the final seconds to grab fifth. Jamie Green will start sixth after a brush with the barriers slightly damaged his car.
The first red flag came out after 12 minutes when Lei Kit Meng spun and, as he tried to recover, he was collected by fellow Macau driver Rodolfo Avila. A second red flag was caused when Frenchman Eric Salignon crashed into the barriers at Maternity Bend - the same place he had gone off in first qualifying - with 15 minutes to go.
Kazuki Nakajima caused the third red flag of the afternoon when he ran wide at the final R Bend corner and spun into the barriers. His TOM'S car rebounded into the middle of the track but the Japanese driver was able to climb out of the cockpit unaided. Frenchman Franck Perera crashed his Prema Powerteam car heavily into the barriers at San Francisco Bend, while Marchy Lee fell foul of the barriers at Moorish Hill.